Bomb scares at several UK army career offices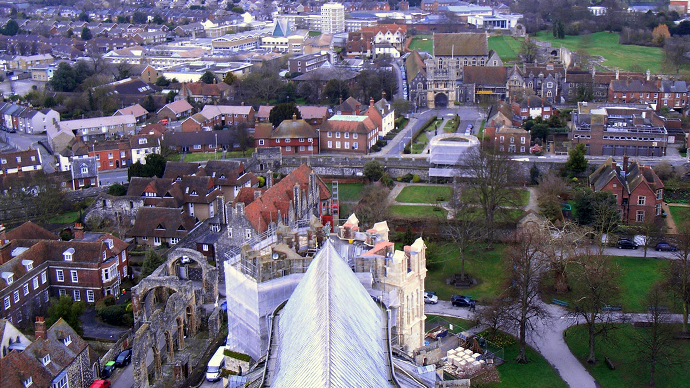 Suspicious packages said to contain 'small, crude but potentially viable devices' were found outside four army recruitment centers across Britain on Thursday after two consecutive days of similar bomb scares.
Counter terrorism police and military bomb disposal teams are currently investigating a series of bomb scares at army recruitment offices in Canterbury, Slough, Brighton and Oxford and three other towns.
"Because suspicious packages were found at various locations yesterday, notes were sent out to all the army careers offices, as well as the Post Office, asking staff to be extra vigilant and look out for suspect packages," said Detective Superintendent Stan Gilmour, of the south-east counter terrorism unit, in a statement.
The Ministry of Defense also confirmed in a statement that military bomb disposal experts were working with the police.
In Canterbury, Kent, the city center was cordoned off after a suspicious package was found on St. Peters Street; a bomb disposal truck is on the scene.
"The street is cordoned off and there's a heavy police presence. There are a lot of people milling about and wondering what on earth is going on," a witness at the scene told Kent News.
In Oxford a similar package was found on St Giles and a cordon is in place around central Oxford, although buses have apparently resumed services.
Mike Davey, a catering manager at St Benet's Hall nearby the army office, told the Oxford Times: "We were asked to evacuate for safety reasons while serving lunch. We just dropped everything and got out."
In Slough, the Queensmere Observatory Shopping Center where the package was found was evacuated but has now reopened. In Brighton, Queens Road was sealed off, while a robotic devise was sent in to investigate and a bomb disposal team was called in.
Suspect packages were found at a number of army careers offices in Aldershot, Wednesday, a town famous for its links to the army. While two packages found in Reading and Chatham on Tuesday are now being described by officials as "small but viable explosives".
Tight security is in place around all UK armed forces recruitment offices, which already operate a closed door policy where people are not allowed in without being checked first. A spokesman for Prime Minister David Cameron stated Thursday the packages bore hallmarks of Northern Ireland separatists.
"Seven suspect packages have been identified as containing small, crude, but potentially viable devices bearing the hallmarks of Northern Ireland related terrorism," the spokeswoman said in a statement. "These have now been safely dealt with by the police and bomb disposal units."
You can share this story on social media: