Armenia prepares for crucial election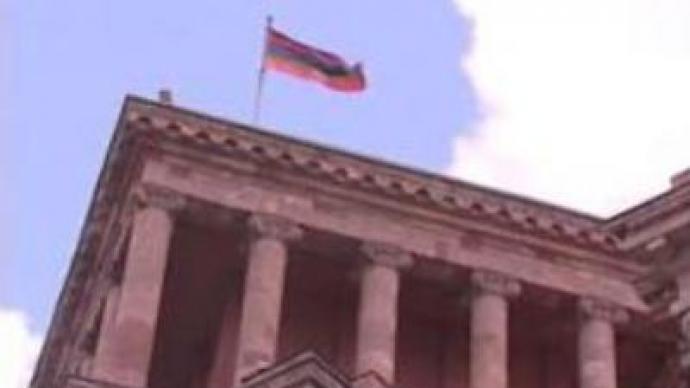 Armenians are gearing up for their country's last parliamentary elections before current President, Robert Kocharyan, leaves office. Most observers agree that the May 12 result will set the stage for choosing Mr Kocharyan's successor.
He has ruled Armenia since 1998, a period which has seen Armenia emerge out of post-Soviet chaos and economic collapse. The country is now stable, and witnessing significant growth. However, serious problems remain with corruption, human rights and democracy.The man tipped to succeed Mr Kocharyan is Prime Minister Serg Sargsyan, leader of the ruling Republican Party. His party was predicted to have an easy victory in these elections. But that was before businessman Gagik Tsarukyan, who, according to Forbes magazine, is Armenia's richest man, moved into politics with his Prosperous Armenia Party. With a big budget and high profile campaign well underway, polls suggest the party, only created last year, could take 30% of the vote.Opposition politicians say Prosperous Armenia is a project hatched by the administration to attract voters dissatisfied with government policies, without them actually voting for the opposition.
"I think this is a really good game the president is playing. He wants to make balance between these two parties in the parliament, like if there will be substantial MPs from Prosperous Armenia and Republican Party, then he will be judge, who will decide how to work, how these two parties will work together and how Parliament will vote. So of course this is his game and he can really rule and really manage these two parties,"
says Agasi Enokyan, director Armenian Center for Political and International Studies.Prosperous Armenia and the ruling Republican Party both support the President and his polices, and Prime Minister Sargsyan does not rule out potential collaboration in the future.
"They have their supporters and we have our supporters, and that is why we don't consider them our rivals. I don't know their programme exactly, but I don't think their will be any controversies between us. The government of Armenia is a coalition, and I am not against being in a coalition government,"
says Armenian Prime Minister Serge Sargsyan.The opposition, though divided and without a clear leader, vow to fight all pro-government forces, and, if the election is declared unfair by international observers, they promise to stage massive protests, along the lines of the 'colour revolutions' seen in Ukraine and Georgia.
"If again the authorities will falsify the election results we will have very hard consequences and, of course, we will continue our struggle. Peaceful protests in Armenia in 2003 started before the Rose Revolution in Georgia. After more than 100,000 people gathered in peaceful protest in Yerevan the same will happen this year if election results will be falsified,"
says People's Party leader Stepan Demirchyan.However, experts doubt the opposition's ability to win a large number of seats in the elections, but the possibility of large street demonstrations remains real.
"If we are talking about voting, about getting votes, then the opposition do not have chance to win, they might get some 10% of seats in the parliament, but if we are talking about making revolutionary movement from these elections then I think there is a chance,"
believes Agasi Enokyan.But while talk of revolution seems premature, the political temperature is certainly rising.Armenia's parliamentary elections are not until May 12, and many have already the opposition's chances of success, but for these opposition supporters behind me, the race has just begun, and with less than a month to go before polling day, the campaign seems to be heating up.
You can share this story on social media: