21 December 2012 is here: 'Apocalypse' LIVE UPDATES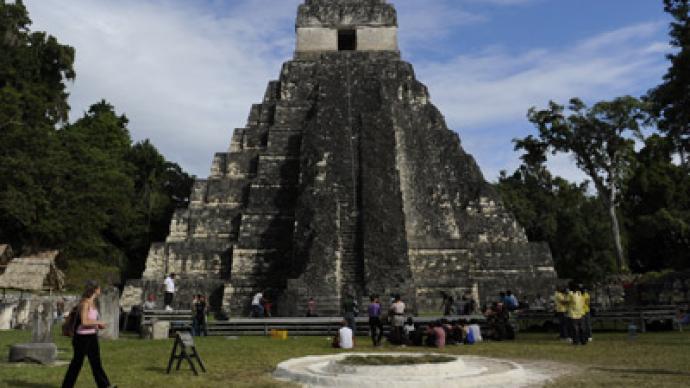 The much-anticipated date for the end of the world is finally coming, as predicted by the Mayans, and we've got the latest updates on how the globe is dealing with 'Armageddon.'
23:37 GMT: Doomsday re-scheduled? Archaeological record suggests Mayan Armageddon is Sunday.
what if the apocalypse actually happened and we're already dead? and we're all just dreaming of our normal lives?

— Drew McGowen (@quantumdude) December 21, 2012
18:28 GMT: Frustrated Twitter users call 21.12 "worst apocalypse ever." Others boast surviving the end of the world and ask when the next doomsday is due.
I'm bored. This is the WORST apocalypse ever! Where's the destruction? Chaos?

— ♚ Duchess ♚ (@TSXPrincess) December 21, 2012
17:42 GMT: Denver officials have been making announcements of a warning sirens drill, so that the people wouldn't confuse it with a doomsday signal.17:20 GMT: 1.5 million 'apocalypse' bunkers, including 78 colossal underground shelters, have been ordered by wealthy Moscovites fearing the end of the world, urban explorer Vadim Mikhailov of "Diggerspas" told INTERFAX.15:49 GMT: Russian PM Dmitry Medvedev: "Oh, and I congratulate you that it's 3:00pm and the world is still there." Medvedev made the comment during a business meeting after receiving holiday greetings.15:00 GMT: A massive power outage in Annapolis, USA, that created a huge firework like display in the night sky, had many people believing that the end of the world was finally upon them. At the height of the power cut about 70,000 homes and businesses were in the dark. 14:30 GMT: A Mayan believer, who stood to win US$50,000, has lost a tenner after placing a $10 bet with 5000-1 odds that the world will end today.14:20 GMT: The threat of apocalypse has already receded in New Zealand, as it is already December 22nd there.

14:15 GMT: French police have arrested two men who had gasmasks and machetes in their cars as they approached the 'doomsday' village of Burgach, where people will apparently survive the apocalypse. Officials said they were trying to test the security cordon around Burgarach where dozens of police have been deployed to head off an influx of new age fanatics. Police on Thursday also arrested a man with a Taser electric shock device and baseball bat near the same village.

14:00 GMT: Mayan believers celebrate of 'the cosmic dawn' on Friday at the Chichen Itza ruins in Mexico. The cosmic dawn is meant to herald the beginning of a new era. Crowds of Mayan believers also gathered in Tikal in Guatemala, one of the largest archaeological sites of the pre-Columbian Mayan civilizations. For many indigenous Maya, the end of calendar count, which began in 3,114 BCE and is divided into roughly 394-year periods called Baktuns, is an occasion for hope. Mayans held the number 13 sacred and the 13th Baktun ends on December 21.
12:36 GMT: A group of Shamans in Peru invoked the power of the gods and their ancestors to avert the 'Maya apocalypse.'

12:09 GMT: Chilean priest Bernado Bastres of the southern city of Punta Arenas has said that the church has no qualms about receiving money from followers who believe the world will end."Many people believe the world is coming to an end, and we the church have no problem with people leaving their savings and property to us," Bastres said to the Chilean press, adding that he did not believe  in the apocalypse but would pray for those who did.
11:10 GMT: The countdown to the apocalypse is over. According to interpretations of the Mayan calendar it finished at 5:07 Mexican time (11:07 GMT). However, Mexico's National Institute of Anthropology now says that due to inaccuracies in calculations the countdown might not end until Sunday.
11:08 GMT: Australian Facebook  group 'Night sky' posted this photoshopped apocalyptic scene onto their Facebook page under the caption "Breaking News: Right now at this very minute in Australia!"

11:06 GMT: Doomsayers and religious leaders have claimed that Sirince, a village in western Turkey, will be spared from the 'Mayan apocalypse.' Thousands of people have descended on the well-known tourist destination, which will supposedly be saved from destruction by the 'positive energy' flowing through it.

10:50 GMT: University students celebrate their graduation in front of a replica of a Mayan pyramid in Taichung, Taiwan. The Taiwanese National Museum of Natural Science has organized a public countdown ceremony to curb fears about the end of the world.

10:23 GMT: Guatemalan Mayans have gathered at the ancient temple Kaminaljuyu to carry out purification rituals to usher in a new era according to their Long Count calendar. Roly Escobar from the Ajtobanel´achí Association of Spirtual Guides explained to BBC World that the ceremonies create positive energy, and that this new era promised more unity, equality and respect for the world.

10:07 GMT: The end of the world is one hour away. Using the Mayan calendar experts have calculated that that it will come to its end at 5:11 Mexican time (11:11 GMT).
9:31 GMT: A pensioner has leapt to her death from her flat on the 13th floor of an apartment block in the town of Sergiev Posad, on the outskirts of Moscow. Investigators suspect that the 73-year-old's suicide may be connected to her regular perusal of television programs and magazine articles regarding the imminent 'Mayan apocalypse.'
9:10 GMT: The UK's iconic Stonehenge monument is playing host to druids, pagans and tourists who have gathered at the stones to mark the winter solstice. Ceremonies are held every year at the monument to celebrate the shortest day of the year in the Northern Hemisphere, but more people are expected to congregate this year as the date coincides with the 'Mayan apocalypse.' Over 1,000 people flocked to the stones last year for solstice celebrations.

8:44 GMT: Thousands of people have flocked to the small Turkish tourist town of Sirince under the belief that it will survive the impending 'Mayan apocalypse.' An international organization called the Blue Energy Group publicized Sirince, along with the French town of Bugarach, as the only two locations that will survive 'Doomsday' on December 21. As a result of the ensuing hype, over 60,000 visitors are expected to descend upon the Turkish town for Friday's 'duck the doomsday' event
8:11 GMT: The US has seen a flurry of online ads searching for sex on the eve of 'Doomsday.' One ad posted by a 38-year-old man from Virginia on the site Craigslist called for "one last end of world romp." Swimsuit model Niki Ghazian told the New York Post that the so-called 'Mayan apocalypse' was a great reason to have sex, declaring she did not "want to die on a dry spell!"
7:50 GMT: The UN has denied claims that it is selling tickets to an ark to save people from the alleged impending apocalypse. The organization posted a message on its official account on the Chinese Twitter-style website Weibo, saying "The United Nations sincerely has not issued any boat tickets." Fake 'United Nations 2012 China Tibetan Noah's Ark' tickets are being auctioned off on Chinese websites, and are currently retailing for 10 Yuan ($1.60).
7:36 GMT: December 21 has begun in Mexico and Guatemala, the seat of the Mayan civilization whose 'Long Count' calendar triggered speculation over the apocalypse.
07:25 GMT: Hundreds of spiritualists are gathering in the city of Merida, Mexico – about an hour-and-a-half from the Mayan temple Chichen Itza – to celebrate the end of the Mayan Long Count calendar.
06:55 GMT: Argentinian police will close down Uritorco Mountain in the country's north to prevent a ritual mass-suicide on the day of the 'Mayan apocalypse.'  Authorities were alerted by a Facebook event calling on "believers and fighters of the Light" to gather on the mountain and abandon their "impure flesh," transporting their spirit through an "inter-dimensional portal" opening on December 21.
05:55 GMT: Activists from the Internet Party of Ukraine organized a peculiar event ahead of the so-called Mayan apocalypse – they dressed up in costumes from the 'Star Wars' movie saga and took to the streets of Kiev to hand out 'emergency rations.'  Darth Maul and Darth Vader were quite friendly as they posed for pictures and shook hands with children.

05:01 GMT: The US East Coast has officially entered 'doomsday' – hundreds of excited Twitter users are posting messages that nothing is happening.
apocalypse update: the east coast is experiencing a rare dark sky event called "night"

— sharon (@iLoveMusic_AL) December 21, 2012
04:55 GMT: China has marked 'doomsday' with mass arrests throughout the country. Around 100 members of a Christian sect were detained in central China for spreading rumors about December 21. Members of 'Almighty God' predicted three days of darkness starting Friday. Another 17 people have been arrested in Beijing for predicting that tsunamis and earthquakes would usher in the Armageddon. The total number of those detained in China for apocalyptic rumors has reportedly neared 1,000. Meanwhile, unusually cold weather across the country has resulted in further speculation, though officials deny the extreme cold is related to the 'Mayan Apocalypse.'
04:35 GMT: Bolivian president Evo Morales said that December 21 is not the end of the world, but a 'new beginning.' President Morales will spend the day on the Island of the Sun on Lake Titicaca, celebrating the start of a 'new era of peace and love.'

03:35 GMT: Chickens: the key to salvation? A widespread rumor in Malaysia has cost a man to lose his chicken farm as the hoax said that placing cockerels and hens in one coop might prevent them from being engulfed by a huge tidal wave on doomsday. Those who believed the recipe for salvation stole the farmer's 13 chickens. The rumor was part of a series of text messages that also told people to stock up on food and candles ahead of the end of the Mayan calendar today.
03:18 GMT: #EndOfTheWorldConfession hashtag is trending on Twitter as millions make their final funny, romantic and occasionally frightening confessions.
02:41 GMT: Several Michigan schools have closed, giving thousands of students a few extra vacation days, amid rumors of violence related to the Mayan "doomsday.""We are not taking the chance, and we are not willing to be dismissive about student safety – especially in the wake of Connecticut. It was an easy decision," said Matt Wandrie, superintendent of Lapeer Community Schools. Due to the recent massacre in Newtown, Connecticut, there have been numerous rumors of possible "gun violence" circulating in the district.
01:53 GMT: With three hours until doomsday hits the East Coast of the US, many Americans are searching online for end of the world sex. "Looking for some fun tonight with a good looking girl before the world ends! :)," wrote one man in New York City. "Feeling adventurous? We can try things you always wanted to try but never had," writes another. Women are also searching dates and hookups on Craigslist and the online dating site OkCupid, the New York Post reported.
00:20 GMT: "Smile, you are being abducted," reads a sign on a mock UFO carrying alien dolls in Alto Paraiso de Goias, central Brazil. Locals are in humorous spirits ahead of the looming end of the world. Alto Paraiso de Goias is considered a mystical city, and has attracted many Brazilians and foreigners seeking refuge from the upcoming events.

23:59 GMT: Big Ben to strike end of days?23:55 GMT: Iceland freezes in anticipation of the Armageddon.23:40 GMT: Houston, is there a problem? International Space Station crew prepares for doomsday.
23:37 GMT: Police in France have blocked doomsday believers from a 'mystical mountain' in the tiny village of Bugarach, southern France, where they believe a garage for UFOs is located. The mayor of the village, home to just 189, has declared the zone a no-go area and appealed to the world not to come to Bugarach. "This is no laughing matter," he said. "If 10,000 people turn up on December 21, our village will not be able to cope."23:00 GMT: 'Armageddon' hits Spain: a surprise block to Catalonia's independence bid?22:10 GMT: Dutchman Pieter Frank van der Meer has prepared a lifeboat in his garden in the central Netherlands village of Kootwijkerbroek, which lies around 20 kilometers from the sea. The boat is capable of saving 50 people during floods brought on by the Mayan-foretold doomsday. He bought the totally enclosed lifeboat for €13,000 and installed a toilet, a sink and a child's car seat inside. Some 35 people have reserved seats in the boat.

21:20 GMT: Smart tip to bypass the apocalypse: Fly from Los Angeles to Australia on Thursday night, skipping Friday and landing on Saturday.
20:00 GMT: Red square welcomes the winds of doom.

18:20 GMT: The Canadian Red Cross has urged people to review their readiness for a disaster in light of the looming end of the world. "The Red Cross urges Canadians to be ready to take care of themselves and their families for 72 hours in any emergency," said Denis Dion, the national director of disaster management.Canada's Red Cross also recommended an emergency survival kit for every household, which includes – in addition to food and water – some cash in small bills, extra car and house keys and a manual can opener.
16:40 GMT: Meanwhile, across the globe, people have come up with a variety of ideas of how to survive in the event of Armageddon. For instance, a Chinese villager has created giant, reportedly tsunami-proof survival pods, made using a fiberglass casing over a steel frame. The cost is $48,000 each, and the pods are equipped with oxygen tanks, food and water supplies. They also come with seat belts, which is essential for riding out storms.

Another Chinese man built a copy of Noah's Ark, spending all his life savings to protect from the 'apocalypse.'

Doomsday merchandize is also offered in Russia and Ukraine and includes survival kits. In the Siberian city of Tomsk, such items for "meeting the end of the world" include ID cards, notepads, canned fish, a bottle of vodka, rope, a piece of soap. The packages are said to be popular with customers, more than 1,000 kits have been already sold, according to the company.16:00 GMT: 'Armageddon' day begins in Hong Kong.15:36 GMT: Argentina has closed Uritorfco Mountain over fears that Armageddon-watchers will commit mass suicide.

15:10 GMT: Moscow residents are shelling out $1000 for tickets to a 'Doomsday Party' in a Cold War-era bunker about 60 kilometers underground.

14:51 GMT: Guatemala has welcomed 'doomsday' with a special ceremony.14:43 GMT: In the city of Petropavlovsk-Kamchatsky in Russia's Far East, 'Apocalypse Day' has begun.14:32 GMT: There are now more journalists than residents in the southwestern French village of Bugarach, as mystic groups arrive amid rumors that the town will be the only place to escape the 'Mayan Apocalypse.'

14:30 GMT: Thousands of mystics, New Age dreamers and devotees of pre-Hispanic cultures are coming to Mexico in the hopes of seeing something amazing when 'the end of the world' dawns on Friday.14:07 GMT: December, 21 comes to Japan.14:06 GMT: Russia's Emergency Ministry warns the residents of the Moscow region of abnormally cold temperatures on the 'Apocalypse' night. Thermometers are set to show -26 degrees Celsius overnight, and rescuers highly recommend not to use cars and not to go outside.14.05 GMT: A new trend has appeared in Russian Twitter: #TomorrowIsTheEndOfTheWorldAndIHaventYet, with the users coming up with their ideas of what they haven't ever experienced, as the end of the world is nearing. Among the things that haven't been done: a Justin Bieber concert, a trip to Hogwarts, a visit to a grandmother.14.03 GMT: New Zealand and Australia were the first countries to welcome 'Armageddon Day.'
You can share this story on social media: