Violent mass looting engulfs Argentina amid police strike, 10 dead
At least ten people were killed and hundreds others injured as chaos gripped Argentina amid a police strike demanding pay rises. Mobs have taken over the streets, looting shops and robbing homes, local media reported.
Officers across the country refused to go on patrol in 19 out of 23 Argentinean provinces.
Overnight on Monday, four people – including a 35-year-old police officer – were killed in the province of Chaco. The officer died while protecting a supermarket in the provincial capital of Resistencia.
Two other fatalities occurred in the province of Jujuy in the towns of San Pedro and Perico.
A man was shot in Tucuman province and died after surgery, Zenon Hospital chief Diego Eskenazi told Todo Noticias. Another young man died of gunshot wounds late on Tuesday evening according to a report by La Gaceta, a newspaper in Tucuman province. This raised the number of dead from the mass riots that started last week to ten people.
Seis imagenes de la "tranquilidad" con la que se espera la noche. #Tucumanpic.twitter.com/ZX7OujGVvc

— Yerba Buena (@YerbaBuenaTuc) December 10, 2013
Videos and photos from the scenes show smashed shop windows and looters attempting to carry various products - including appliances and luxury goods such as jewelry.
Federal police, border patrol officers, and other security forces have been deployed to locations where looting is taking place. Fearing mobs, many citizens have armed themselves.
The violence initially broke out last week in Cordoba, located 700 kilometers north of the capital of Buenos Aires. It came amid a police strike in which officers demanded pay raises to keep up with the country's 25 percent annual inflation. A police rally led to lootings in the area, leaving two dead and hundreds injured.
The violence prompted local authorities to meet the demands of the protesters, almost doubling the officers' salaries to 12,000 pesos per month (around US$1,915).
'Treason'
The Argentinean president's cabinet chief, Jorge Capitanich, described the unrest as "treason" aimed at spreading chaos in the country.

"In some ways, this amounts to the crime of treason," he told reporters.

Capitanich added that the government was in contact with Argentina's provincial authorities and said that any salary dispute must be resolved through dialogue rather than "holding governors to ransom."

Justice Minister Julio Alak said that authorities would "come down hard on [officers] who are not carrying out their essential service."

Attorney General Julian Alvarez said in recent days that people on social networks are urging more looting, claiming it has been "encouraged by various political sectors," Publico.es reported. Alak warned that those coordinating criminal actions through social networks will be charged.

The violence comes as Argentina celebrates its 30th anniversary of the country's return to democracy, which took place on December 10, 1983.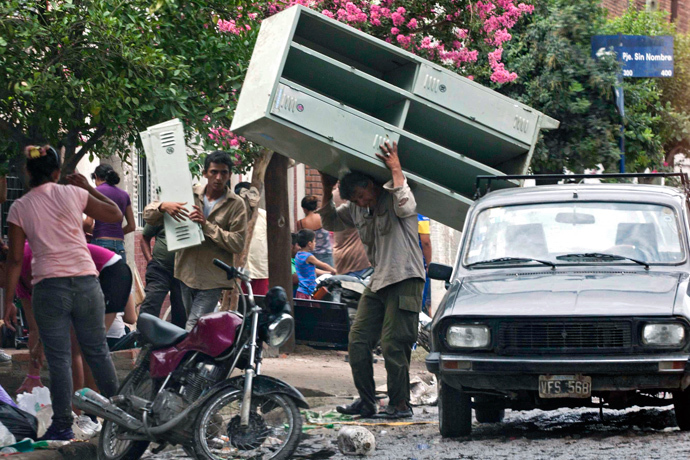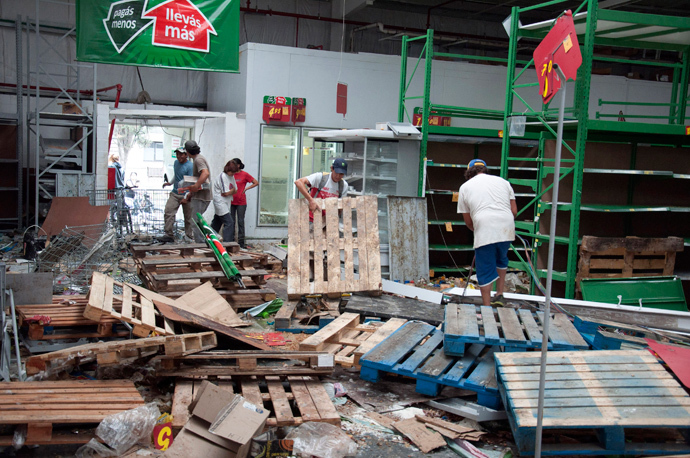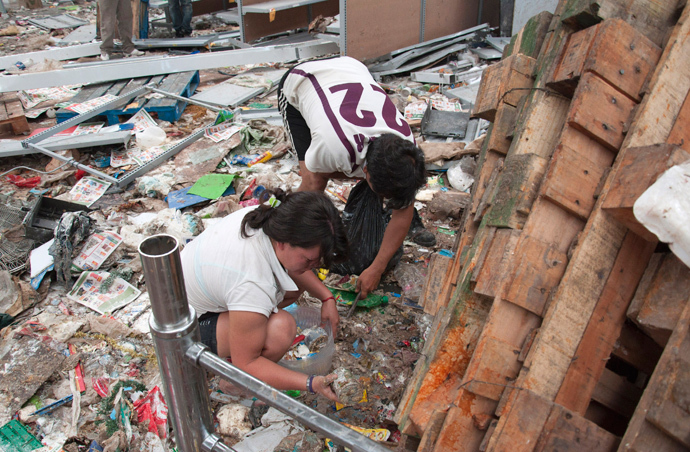 You can share this story on social media: