Arab League observers get permission to enter Syria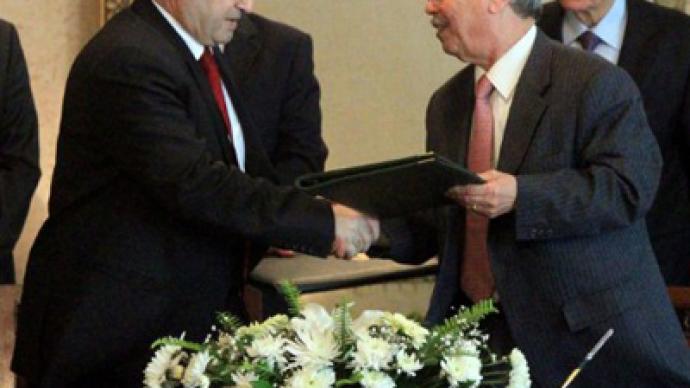 Damascus has signed a deal with the Arab League that will allow Arab monitors into the country in an effort to end the nine-month bloody stand-off between the Syrian government and the opposition.
The deal is expected to disperse the information fog that has gathered over the drawn-out Syrian conflict, as Damascus has banned most international journalists from the country.The observers will have a one-month mandate, said Syrian foreign minister Walid al-Moallem. This term can be extended by another month if both sides agree. The observers will be "free" in their movements and "under the protection of the Syrian government," he added, but will not be allowed to visit sensitive military sites.The Arab League is to dispatch a mission to Syria "within a day or two," said Arab League chief Nabil Elaraby as reported by the Associated Press. The mission will include legal, administrative, financial and human rights experts to discuss the make-up of the observer teams. The agreement between Syria and the Arab League, signed in Cairo on Monday, was welcomed by the international community, including Russia."We believe the protocol signed in Cairo will give an opportunity to involve mechanisms of independent local control, to ensure all Syrian nationals are protected and to stabilize the situation in the country," declared Russia's Foreign Ministry.However on Monday the UN General Assembly condemned the human rights violations rendered by President Bashar al-Assad's regime. The UN, calling for an immediate cease of violence, demanded that Damascus implement the Arab League's plan "without further delays." The resolution was supported by 133 countries with 11 against and 43 abstentions. The UN estimates at least 5,000 people have been killed in the Syrian government's crackdown since the protests broke out in March. On Monday, dozens more people were killed and wounded in the country, says the UK-based Syrian Observatory for Human Rights. This includes some 60 army defectors who were killed by army forces as they left their military posts.
Beirut-based political analyst Kamel Wazne says the mission will help to reveal the real situation in the country."The Syrians spoke very clearly – they don't have anything to hide. They let those observers witness how the weapons smuggled from Turkey, from Lebanon, and from Jordan are coming into the country and how this weapon infiltration is feeding those terrorists and how they terrorize a certain area in Syria."
Wazne notes that there is reality and there is also certain propaganda, so observers can discover the facts first-hand.