Anti-war ideas spread in the U.S.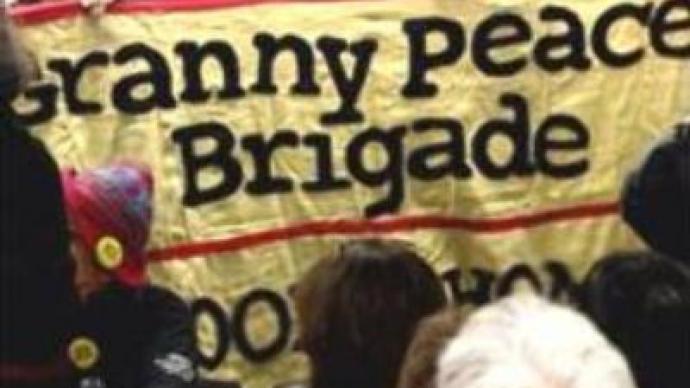 As sectarian violence in Iraq continues, the growing movement against the war finds new supporters in the U.S. In Washington hundreds of grandmothers gathered outside the Senate to petition politicians to end the conflict.
The group known as the Granny Peace Brigade was formed in 2005, when 18 grandmothers aged between 59 and 91 tried to enlist in the U.S. Military to replace their grandchildren who'd been deployed to Iraq. Armed with wheelchairs, walkers and canes the granny protestors and their supporters called for troops to be brought home, and federal funding for the war to be stopped.This is the second anti-war action the U.S. Congress has seen in four days. Earlier this week more than 1,000 active duty servicemen signed a petition and brought it to the Capitol urging lawmakers to prevent the troop surge and end the war.
"I am not here wearing a uniform, I am here as a citizen. And I want the Congress to understand that as a citizen soldier that I have the right to appeal and speak out against an unjust war,"
said Sgt. Jabbar Magruder, an anti-war protestor.But the White House says the U.S. has an obligation to help the Iraqi government.
"Other than saying that we want to go, we have not heard any specifics of how that achieves the goal of trying to have the kind of Iraq we're talking about. And furthermore it has implicit the assumption that Iraqis right now have everything they need. It's our view that they have a lot of what they need, but there is still a need for more training, there is still a need for more support,"
claimed Tony Snow, the White House press secretary.While the anti-war grandmothers continue their fight to stop the war, Secretary of Defense Robert Gates is hinting at another troop increase, this time in Afghanistan. Gates is expected to put the suggestion to President Bush at a meeting later this month.With the latest polls showing that 70% of Americans disapprove of the way President Bush has handled the Iraq war and another 69% saying that Mr. Bush does not have a clear plan for Iraq, the growing anti-war movement in the U.S. is certainly picking up steam.
You can share this story on social media: