Anti-recession programme is going too slowly – Medvedev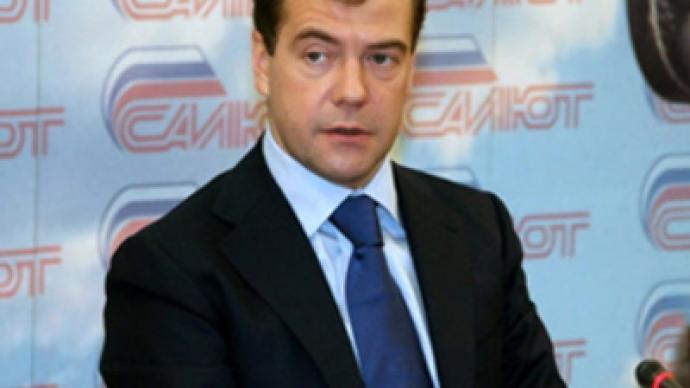 Dmitry Medvedev has expressed dissatisfaction with the way his anti-recessionary programme is being implemented by the government, with less than a third of his commissions having been complied with.
The realisation of the anti-recessionary programme in Russia is going more slowly than planned – and more slowly than the economical situation requires, the Russian president Dmitry Medvedev declared on Sunday. He was speaking at a meeting devoted to the stabilisation of the situation in the real sector of the economy at the Moscow machine-building Salut enterprise.
The head of state has recalled that in October of last year he gave the government a number of anti-recessionary tasks. However "just a third part of them have been executed,"
he said
He went onto add: "It is necessary to understand what's going on and make all necessary efforts to speed up the work. Many problems are taking an inexcusably long time to be solved," Medvedev stressed, before adding:
"First of all, overall industrial output in October-December on average fell by more than 6 % per month, in comparison with the same period of 2007. Secondly, the majority of all enterprises have a serious deficiency of operating assets. Interest rates for credits have grown, and requirements of their maintenance have become tougher. Thirdly, all these factors have badly influenced the work of the budgetary system, mainly in the regions."
You can share this story on social media: