Anti-missile rally in Prague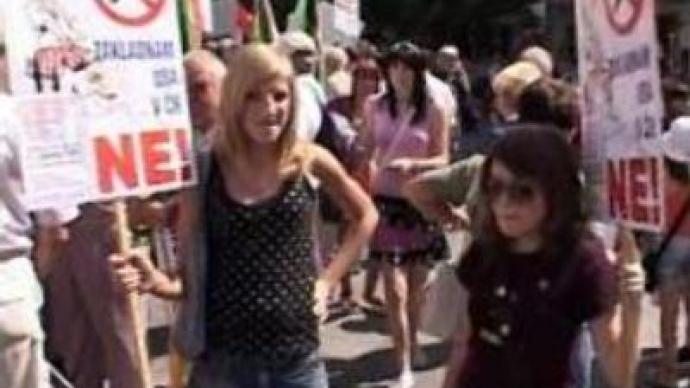 Over a thousand people took to the streets of Prague, Saturday, to protest against the planned deployment of a U.S. radar base – part of its anti-missile shield – in the Czech Republic.
The previous demonstration in January attracted only a few hundred people. Jan Tamas, rally organizers' spokesman, called the event a success.
"We are not a country that is used to large demonstrations. People here prefer to stay home and complain. So this is a really good success – we didn't have such a crowd here for months, maybe years. Also this initiative is going on for more then ten months now – the only such a long civic initiative in our resent history," he believes.
Opinion polls suggest the Czech public is generally against the deployment of AMD elements in their country, saying they don't want to be a change coin in U.S. foreign policy. They also fear hosting the American anti-missile shield will make the country a target for possible attack rather than provide more security.
The Czech government on the other hand, says that the deployment of a missile defence system in the country will improve relationships with the U.S. and bring a substantial amount of money into the Czech Republic.
Russia is standing strongly against this anti-missile system, questioning America's choice of location for its elements and saying the shield will pose a threat to Russia's national security. Resent visits of top U.S. officials Condoleezza Rica and Robert Gates to Moscow failed to disperse Russian concerns.
The rally in Prague comes as a U.S anti-missile defence test over the Pacific on Friday ended in failure, raising more doubts in the system's viability and practical use.
Meanwhile, the U.S. has once again confirmed its position on the issue as relentless.
At a session of NATO's Parliamentary Assembly in Portugal U.S. delegates stressed they will go forward with plans to deploy elements of anti-missile system despite objections from Russia or any other state.
You can share this story on social media: