Anti-government strike in Lebanon: 3 killed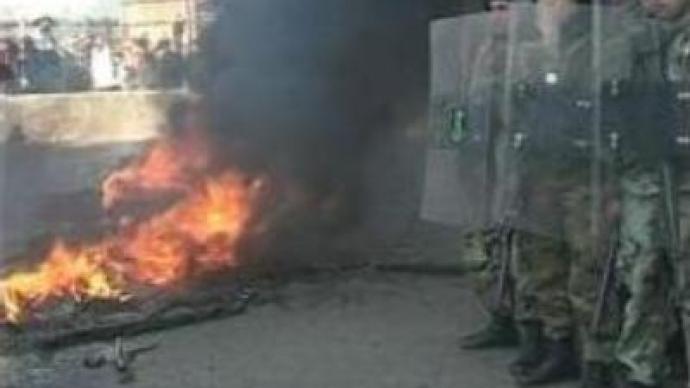 Three people have been killed and more than hundred injured during a nationwide strike in Lebanon aimed at toppling Prime Minister Fouad Siniora's Government. The police and troops have been deployed amid fears of violent clashes.
Lebanese Prime Minister Fouad Siniora, however, promised he and his government will not step down and "will stay together against intimidation".The unrest comes two days before a major aid conference in Paris. Potential donors are offering funds to help Lebanon rebuild after last summer's armed conflict between Israel and Hezbollah. The money would be a boost for the embattled Saniora, but the political chaos raises questions over whether his government can distribute funds and lead reconstruction without a deal with Hezbollah.Meanwhile, all around Beirut, the capital city of Lebanon, and further, main roads were blocked off. Army troops were deployed to remove burning tyres and rubble, although in some areas they were met with strong opposition. However, in the Lebanese Islamic party Hezbollah stronghold of southern Beirut, they did little to intervene. Hassan Nasrallah, the Secretary General of the party, is one of the main forces behind the action. He claims the Prime Minister Fuad Siniora's government is no longer legitimate and wants a unity government and early elections to be called.On Monday he urged all Lebanese people to go on strike and bring down Siniora's western-backed government.
"We will not be scared and we will not retreat. Nobody will terrify us in a civil war or in a sectarian sedition because we will not be dragged into it. We will move onto the streets, and if you want to kill us, kill us. I will reiterate what we have said before, if you kill one thousand of us, we will not use our weapon against you,"
he said.For his part, Fouad Siniora, has dismissed the strike, calling it a 'scare-mongering campaign'. He has urged the Lebanese people to ignore Nasrallah's calls.
'What is happening shows that the opposition is not working to improve the lives of the people. It is as if they are working to make them even poorer instead of working towards solidifying the stability,'
the Prime Minister of Lebanon stated. However, pressure from the opposition is mounting on the leader. In December Hezbollah-supporters began an open-ended protest outside the Prime Minister's office. They are vowing to continue their campaign until Siniora agrees to cede to their demands.
You can share this story on social media: