Anonymous set to establish news website after successful fundraiser
Published time: 18 Apr, 2013 01:19
Edited time: 20 Apr, 2013 11:09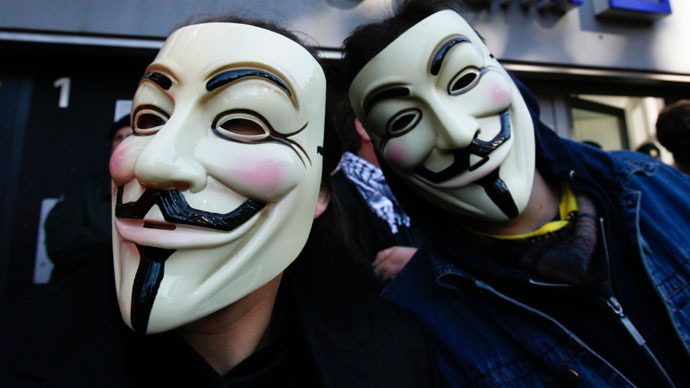 An online donations-pledge drive on behalf of online hacktivist group Anonymous easily surpassed its initial goal, ushering forward a project by one of its largest Twitter subset groups to establish a news website run by and for the organization.
Since its early days Anonymous has been largely based off of social media activity, with much of its activity taking place on 4chan, Twitter and Tumblr, though more central players are also regulars on online chatrooms hosted by IRC.

The group, which is really a loose collective of online hacktivists that join forces for various focused projects, has generally avoided establishing permanent sites, though the @YourAnonNews (YAN) account has now begun a public campaign to raise funds for a new online home.

An initial attempt to fundraise for the new venture seems to have been a outright success, with over $54,000 having been crowdsourced, far exceeding the two-thousand-dollar goal. The group also seems to have developed a penchant for merchandizing, using the group's symbolic coat of arms - a Guy Fawkes mask and crossed swords - to gift apparel and mugs for donors.

While it is difficult to point to any central hierarchy within Anonymous, this latest project to establish a news web presence may further coalesce the group - which is known for its distaste for corporate media.

According to YAN's announcement, the website will seek to capitalize on what the group is best at doing: collecting individual contributions and coalescing around certain news items and activist drives.

"We will engineer a new website which will allow us to collect breaking reports and blogs from the best independent reporters online. We'll provide feeds for citizen journalists who livestream events as they are taking place, instead of the 10-second sound bites provided by the corporate media. Likewise, we know it would be beneficial to our followers to exist as a community beyond simple social media interactions."

By developing a large following in social media the group's voice has been amplified, and its large membership numbers mean that it is often involved in the headline stories of the day. Anonymous has also developed into an active community of participants who often try to piece together content such as images and videos by Internet users to tell a larger story.
Most recently, Anonymous has been preoccupied with opposition to Cyber Intelligence Sharing and Protection Act (CISPA), a US cybersecurity bill its supporters say is meant to help the government coordinate against cyber threats. The hacktivist group's opposition, which is also reflected by advocacy organizations such as the Electronic Frontier Foundation and the ACLU, is based on issues of privacy and civil liberties.
The group's interests, which are well reflected by Twitter accounts such as @YourAnonNews, cast a wide net, and can include everything from Venezuela's presidential elections to the recent rape and suicide case of Rehtaeh Parsons in Halifax, Canada. In the latter case, the group not only pushed for visibility of the case, but also inserted itself into the criminal investigation by threatening to publicly disclose the identities of the alleged teen rapists.
Often, smaller regional groups around the world will push issues forward within the collective, such as the recent #OpRohingya project which sought to bring attention on the plight of Myanmar's Rohingya Muslim minority.
Though it remains to be seen whether the group can successfully host and manage its own news website, considering its current reach via social media sites it is not difficult to imagine a future where Anonymous can be an even bigger player in the mainstream news cycle.