#OpIsrael: Anonymous attacks hundreds of Israeli websites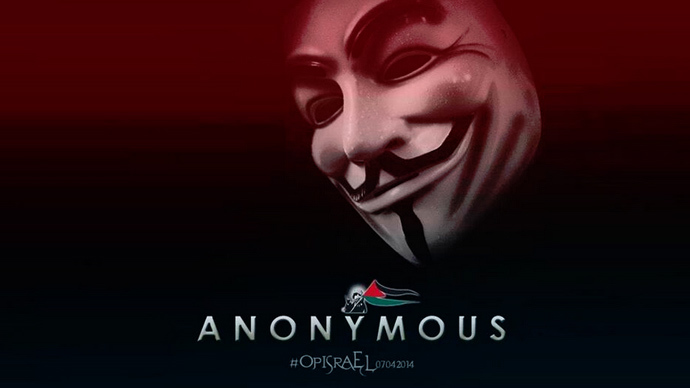 Hundreds of websites of Israeli ministries and organizations came under attack by Anonymous early Monday as part of the hacktivist group's anti-Israel operation, dubbed #OpIsrael.
"On April 7, 2014, we call upon our brothers and sisters to hack, deface, hijack, database leak, admin takeover, and DNS terminate the Israeli Cyberspace by any means necessary" the group said in a statement.
The move is an act of protest against Israel's policies, including those against Palestine.

"The further assault on the people of Gaza, who have been flooded by your sewage, terrorized by your military apparatus, and left to die at the border while waiting for medical attention will NOT be tolerated anymore," the statement read.

"We will not stop until the police state becomes a free state and Palestine is free."
Hackers of the World Uniting Forces for a Massive Cyber Attack against Israel http://t.co/kR6wQ1GVEO#OpIsraelpic.twitter.com/OWcPY832qY

— #OpIsrael (@Op_Israel) April 5, 2014
On a website dedicated to the event, another hacker group – AnonGhost – posted a video saying that the attack will target every possible Israeli website in order to show solidarity with Palestine.
In March, hackers united under the AnonGhost banner claimed to have crashed the website of Israel's Ministry of Agriculture and Rural Development. The group posted the logins and passwords of the website's users online.
The first cyber-attacks under the name OpIsrael were launched by Anonymous during and Israeli assault on Gaza in November 2012. Around 700 Israeli websites, including high-profile government setups such as the Foreign Ministry and the Israeli President's official website, were taken down. Following the attack, Anonymous posted the personal data of 5,000 Israeli officials online.
The websites of the Israeli parliament, ministries and other government organizations stopped operating for some time after last year's attack, which also took place on April 7.
A Middle East hacker who participated in the operation told RT that the "aim of the attack was to show the world the true face of Israel and its armed forces." He said that last year's attack was a warning for Israel to be ready for new, larger "surprises."
In retaliation against the massive assault, Israeli hackers allegedly broke into the website OpIsrael.com and posted pro-Israeli content. The site was allegedly being used to coordinate cyber-attacks on Israeli sites.
Anti-Israel hackers warn: Prepare for #OpIsraelhttp://t.co/JT3Lqsd1a1pic.twitter.com/b7DRym3jsN

— Anonymous Operations (@AnonRRD) April 6, 2014
Keep Calm and Hack #Boyycot#Israel#ZIONIST#ISRAHELL | #FreePalestinepic.twitter.com/3FjBuz5D4m

— Intifada Palestine (@Pal_Intifada) September 4, 2013
You can share this story on social media: