Anonymous shuts down Kremlin's websites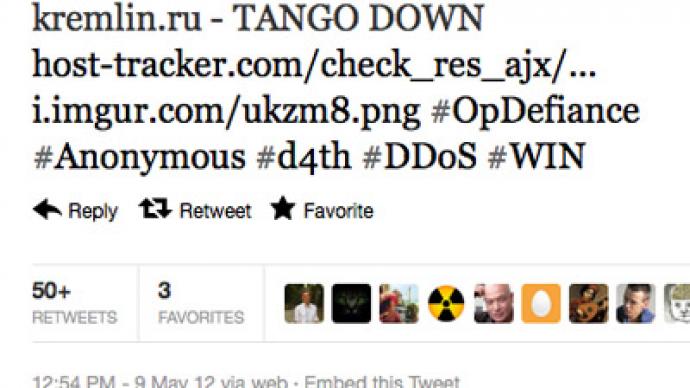 A hacker group calling itself the Russian branch of Anonymous has claimed responsibility for shutting down the websites of the Kremlin and the Russian President.
The sites kremlin.ru and президент.рф have been unavailable for almost an hour on Wednesday.Anonymous tweeted "Kremlin.ru – TANGO DOWN" on their Twitter account, co-opting the military-derived code word to report their successful attack. They also provided screenshots, demonstrating that the site was unavailable in different countries around the world.The website of the Russian Federal Security Service, fsb.ru, has also had performance problems throughout the day, although there is no information on whether it has anything to do with Anonymous.The Kremlin press-service has confirmed its websites were attacked by hackers: "We received threats from Anonymous several days ago but we can't confirm it's exactly this group that attacked the Kremlin.ru website. At the moment we can't establish who's behind the attack. Unfortunately we live at a time when technology security threats have mounted, but we have the means to resist them.""Russian Anonymous" had warned they would attack Russian governmental sites on Monday to show solidarity with the opposition demos.The websites gov.ru and government.ru also faced hacker attacks on the same day, but did not go down.The websites of several Russian media outlets were also brought down due to a denial-of-service attack on the same day.However, no group has claimed responsibility for those attacks.
You can share this story on social media: