'Remember, Remember': Anonymous marks November 5 with hacks, protests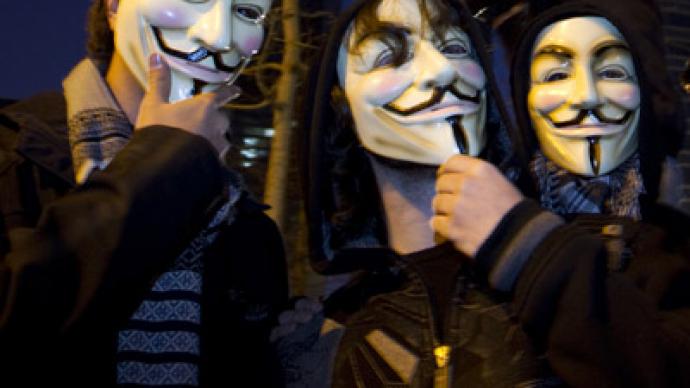 A worldwide day of protests and cyber attacks against governments, banks and security firms has been launched by Hacker collective Anonymous to mark Guy Fawkes Day. Hundreds of people marched in London, while another rally hit Washington, DC.
Around 200 Anonymous supporters, according to RT's London Bureau, assembled in London's Trafalgar Square for Operation Vendetta, a march to the Houses of Parliament. The group itself claims over 9,000 people joined the action.The demonstrators were carrying banners reading, "We are Anonymous. We are the legion" or "Stop creating imaginary debt!"  At the Houses of Parliament they were stopped by police.Minor scuffles broke out outside parliament as a few protestors attempted to push police lines back, but the bulk of OpVendetta remained peaceful.
The "march, strike and protest" in London, as well as a similar event planned outside of the US White House in Washington are meant to pay homage to the 2005 film V for Vendetta."On November 5th 2012 WE THE PEOPLE will march on Washington DC peacefully and unarmed to arrest all members of congress, the president, and all supreme court justices where they will be held without bond until a full independent investigation and trial have been completed. We must re-elect our government within 90 days in order to stave of unrest," organizers behind the march announced.
A rash of cyber attacks were reported on Monday in line with the the 5th of November "V For Vendetta" inspired hacking spree.Several Australian government sites were targeted during the global day of protest, while Argentina's government bank was also reportedly hacked.An attack on Internet security firm Symantec was originally attributed to the hacktivist collective, but a non-Anonymous affiliated group called @Doxbin later claimed responsibility for taking their site down.
Another anonymous affiliated group claimed to have hacked the Organization for Security and Cooperation in Europe's (OSCE) website to "bring attention to election manipulation in the Ukraine."Trapwire – the US-developed predictive software which can access closed-circuit cameras around the country to monitor citizens' movements – and its European analogue INDECT were also the victims of cyber attacks.Anonymous also claims to have stolen some 28,000 passwords and other confidential information from Paypal. Private paste documents allegedly containing emails, names and passwords from the payment service's database were reportedly posted online, though the information was quickly removed.PayPal has disputed the hack took place, saying there is no evidence of a breach."We're investigating this but to date we have been unable to find any evidence that validates this claim," PayPal president David Marcus wrote on Twitter.
On Sunday several sites for the US TV network NBC were also targeted by a person or group calling identified as "pyknic." A text block including "REMEMBER, REMEMBER THE FIFTH OF NOVEMBER" and "F**K THE FEDS, 419 IS JUST A GAME" greeted those attempting to access several popular TV shows. Why NBC was targeted remains a mystery, and the sites were quickly restored.Anonymous tweeted they played no role in the NBC hack or defacement, and also denied rumors they were seeking to take down Facebook.Pyknic also went after a Lady Gaga fan site, Gaga Daily, eliciting a sympathetic tweet from the pop star on twitter.
A far more serious criminal conspiracy seeking to recreate the films dramatic conclusion was also reportedly planned for Monday.In October, a YouTube video appeared featuring a masked individual claiming to represent Anonymous warning a large bomb had been planted at a US government building and would be detonated remotely.Anonymous responded on October 24 that the video "is clearly an attempt to portray 'Anonymous' as a violent threat.""The YouTube account responsible for uploading the clip was only created six days ago and immediately began uploading other Anonymous videos in an effort to associate itself with the hacktivist collective. You Tube has allowed the video to remain online without taking it down for over two days when far less obscene content is routinely censored within hours."November 5 commemorates Guy Fawkes' failed 1605 Gunpowder Plot to blow up the House of Lords in London. A mask bearing his stylized visage – which featured prominently in V for Vendetta – has been adopted by Anonymous and Occupy Wall Street protesters as a universal symbol against tyranny.The film's climax saw the Palace of Westminster destroyed as thousands of Londoners wearing the Guy Fawkes mask looked on.
You can share this story on social media: