Anonymous: CIA, Interpol websites 'tango down'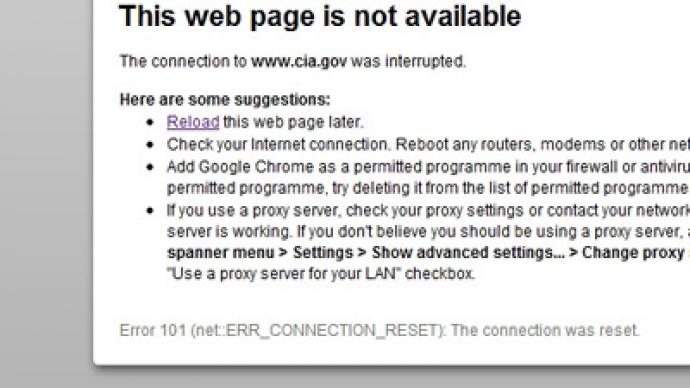 The global hacktivst group known as Anonymous claims to have brought down the CIA and Interpol websites on Sunday.
The attack is attributed to @AnonsTurkey, with the group using the twitter handle to say they are "hacking the world to save the planet". Earlier this year, Anomymous launched an offensive against government and private sites in protest against the content industry.Just last month, Brazilian hacktivist Havittaja claimed responsibility for a DDoS attack on the websites of the US Department of Justice and the CIA. Other Anonymous hacktivists later joined their "Brazilian brother" and brought down two MI6 websites. The CIA website was also downed by Anonymous on two occasions before that, in February 2012 and back in June 2011.The February attack was part of Anonymous' action against US law enforcement agencies and copyright holders. Other targeted websites included the Department of Homeland Security and the FBI. Anonymous was quick to claim responsibility then. The CIA website took several hours to get back online, while the Department of Homeland Security went back up online in a matter of minutes.  Following the attack an alleged Anonymous hacktivist uploaded a video explaining how the community had crushed the agency's online presence and why the CIA should have been ready. DDoS (Distributed Denial of Service) attacks are a concentrated effort by multiple individuals to make a network overly busy. As a result, the website gets overloaded and goes down. DDoS attacks breach the Internet Architecture Board's proper use policy.It is customary for tweets referring to Anonymous DDoS attacks to be accompanied by a "Tango Down" hash tag. Originally the term was used by special forces to say that an enemy had been eliminated.
You can share this story on social media: