Anonymous attacks China, govt websites hacked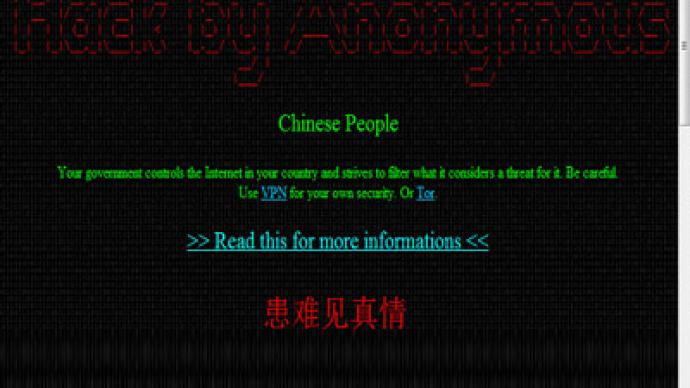 Hundreds of Chinese websites have been hacked by people claiming to be the local branch of the hacktivist group Anonymous. The stated final goal of the attacks is to start a revolt against the government.
The number of sites attacked may be as high as 500. They include government, company and general-purpose pages.In at least one case the hacking resulted in release of 548 phone numbers and 860 email addresses, apparently belonging to Chinese officials.The people behind the attacks say their effort is aimed at undermining the Chinese government, which they accuse of suppressing freedoms and say should be overthrown by a popular revolt."In the defacings and leaks on this day, we demonstrate our revolt against the Chinese system. It has to stop! We aren't asking you for nothing, just saying 'protest, revolt, be the free person you always wanted to be!'" one of the anonymous comments on the Pastebin website rallied.The cyber offensive kicked off in late March with the creation of as an Anonymous China Twitter account, endorsed by YourAnonNews. The new group already has almost 2,000 followers on Twitter.China maintains tight control over the national segment of the internet. The government suppresses online material deemed harmful to public order. Those range from any references to separatist movements in Tibet to the strangest rumors that often spread like wildfire across China's microblogging services.
You can share this story on social media: