Annan to UN: Violence in Syria unacceptable, expedite observer deployment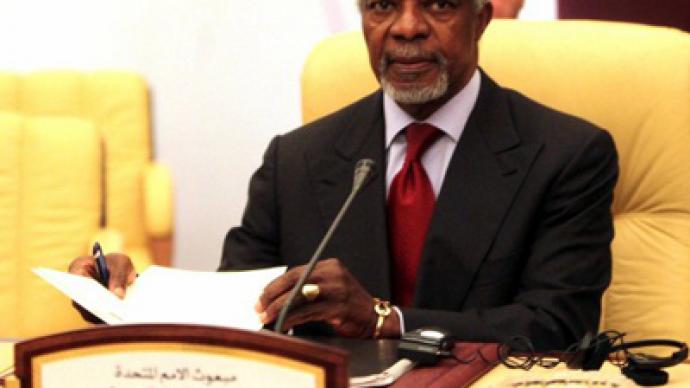 Kofi Annan has said the situation in Syria is "bleak," expressing concern at reports the government was still conducting military operations. But experts say the West's biased approach is to blame for that.
Addressing the UN Security Council in a videoconference, Annan, the organization's envoy to Syria, called the situation in the country "unacceptable" and expressed his concern over media reports of government troops attacking the city of Hama, where UN observers are not present.

"If confirmed, this is totally unacceptable and reprehensible," Annan said.
Annan also called for the speedy deployment of all of the 300 UN observers to monitor the observance of a ceasefire that has formally been in effect since April 30.

Annan's conference followed a spokesman's briefing, in which he said satellite imagery and other credible reports show Syria failed to withdraw heavy weaponry from major urban areas despite prior claims to the contrary. Annan's spokesperson Ahmed Fawzi also said reliable intelligence indicated that Syrian forces would harass, arrest or kill people that approach observers.

US Secretary of State Hillary Clinton later expressed her outrage over the latter claim.
"It is absolutely deplorable if there is this kind of intimidation, harassment and possible violence against those Syrians who have every right to meet with and discuss the situation with the monitors," she said at a press conference with Australian Foreign Minister Bob Carr. "That's what the monitors are there for."
Clinton also stressed that the US is "preparing for the potential failure of Kofi Annan's plan in Syria and will take additional steps if it does."
Annan's address to the UN Security Council came hours after reports by Iran's Press-TV that a bomb went off near Iran's cultural office in Damascus, wounding one person. Syrian State TV also reported that a blast in another area of the city wounded three people. It blamed an "armed terror cell" for the explosion.  

Some experts believe that the peace plan can only succeed if the West and some Arab states adopt a less biased approach to the conflict.

International affairs and defense analyst Lajos Szaszdi believes the West and the Gulf Cooperation Council countries should stop materially backing the opposition.

"I think what is really important, is that there should be a commitment not just by the Security Council, but also a serious commitment on the part of the West and also of the Gulf Cooperation Council Arab states such as Saudi Arabia and Qatar, which have manifested before that they are going to pay the salaries of the armed rebels, to provide weapons and supplies," Szaszdi told RT. "They should step back and stop supporting the opposition because otherwise the opposition, feeling supported by the outside world, will continue to attack and not let a peace process like the Kofi Annan peace plan to succeed."