Anna Politkovskaya's book presented in Moscow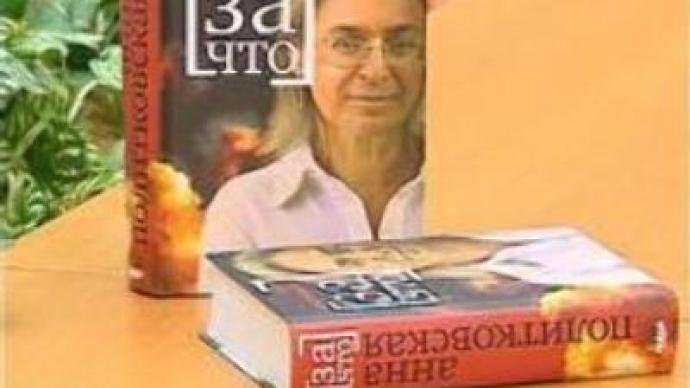 Friends, colleagues and family of Anna Politkovskaya, a Russian journalist killed in 2006, have presented her book. It includes her works both published and incomplete, people's memories of her, reactions to her death.
The English edition is titled 'A Russian Diary'. This is the first book by Anna Politkovskaya published after her death, the first one that was compiled in her absence by her colleagues, friends and family. The book cannot make up for her loss, but serves as a testament for close friends and devoted readers and as a tribute to her reporting skills and her personality.
The presentations took place at the Gorbachev Foundation Fund.
"The most important thing is that she is remembered, and she is relevant," Dmitry Muratov, Editor-in-Chief of the Novaya Gazeta newspaper said. "And, I'm sorry for this business term, but she is a bestseller".
Anna Politkovskaya was found dead on October 7 last year near her apartment. Police reports called it a contract killing. She was shot four times. The investigation into her murder is still on-going.
Her writing often provoked debates, as everything she wrote was on the edge. She was critical of the current political course in Russia and Vladimir Putin's presidency. A lot of her articles focused on human rights abuses and corruption in Chechnya.
At the Congress of the International Federation of Journalists, taking place in Moscow, Anna Politkovskaya's case has become one of the main focuses under the banner 'fighting impunity'.
"I hope that this book will draw attention to this case," Aidan White, IFJ General Secretary, said.
Anna Politkovskaya's death sparked a wave of criticism from the West, accusing Russia's officials of silencing independent journalists.
Mikhail Gorbachev, the first and the only President of the former USSR, who is considered in the West the initiator of freedoms in the country, does not agree.
"They have been building their democracy for 200 years and want to see it built in this country for 200 days," he said. "It is impossible. I believe we have taken the right course".
The main questions in Politkovskaya's case remain unanswered. One of them is the same as the title of her book: in Russian "Za Chto?", meaning "For What Reason?" or just "Why?"

You can share this story on social media: