Ankara's worst attack in decade claims 6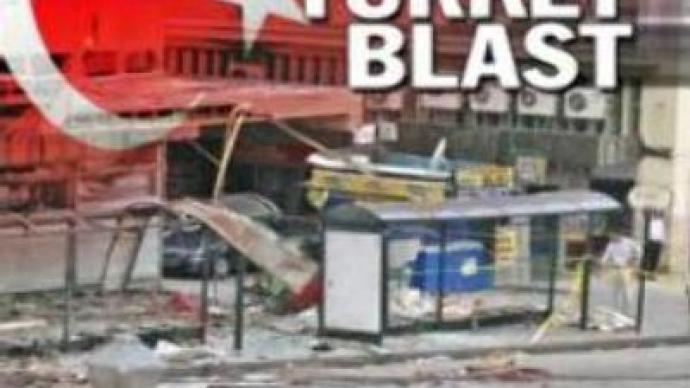 A powerful explosion struck the Turkish capital Ankara on Tuesday killing six people and injuring 80. It is believed to be the worst attack to occur near the Turkish government headquarters in a decade.
The blast happened outside a shopping mall in one of the city's busiest commercial centres.Five people died at the scene and another died later in hospital.Turkish Prime Minister Tayyip Erdogan arrived later that evening. He called upon the international community to combat such acts of terrorism.
"We always see the results of terrorism all over the world like in US, Britain, Spain or Italy, for example,"
he said.
"And we have always repeated the same thing, what we say is, an international counter-terror platform should be established. We have indeed seen once again today that this should happen".
The blast occurred as Ankara was playing host to an international defence fair. The Prime Minister said one Pakistani, supposedly visiting the city for the fair, was among the dead. The Pakistani embassy denied any Pakistani fatalities.No one has claimed responsibility for the attack, but police say it bears the hallmark of the Kurdistan Workers Party, a separatist group operating in the south-east of the country.The group, known as the PKK, ended a unilateral ceasefire on May 18 prompting warnings from security experts that violence could escalate.Turkey has been struck by a series of attacks in recent years. In November 2003 suicide bombings later linked to al-Qaeda killed 60 people in Istanbul. Kurdish rebels killed more than a dozen in a series of attacks in Turkey last year.Turkey's military chief has urged caution, suggesting more attacks on large cities are possible.
You can share this story on social media: