Suspect killed following rocket attack on Ankara police HQ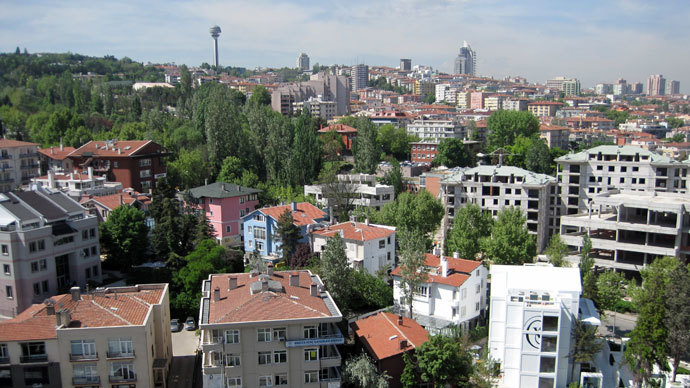 Turkish authorities shot and killed one suspect and wounded another after suspected militants launched a rocket attack on a police headquarters in the capital Ankara late on Friday.
Turkish police launched a large-scale overnight manhunt to track down the perpetrators of the attack after they fled on foot and exchanged fire with police.
They used a rocket launcher to strike two buildings and the grounds belonging to police in the in the Dikmen district of Ankara. A third rocket fired did not explode. No one was killed or injured in the attack.
Police immediately launched an operation to find those responsible for the explosions. They intercepted two suspects near the Middle East Technical University (ODTU) campus.
The suspect who was killed also took part in an attack on the ruling AK Party's headquarters in Ankara in March, the police statement said. No information was forthcoming on the status of the injured suspect.
Interior Minister Muammer Güler said it was not yet clear which organization was responsible for the attack, but the police had already gathered some of the evidence crucial for further investigation.
"The perpetrators fired [the rockets] from the bushes on the pavement of Çetin Emeç Boulevard. We have found an unexploded rocket, a backpack and a piece of fabric belonging to the organization [of the suspects] at the point where they committed the attack," Güler told reporters.
Some of the Turkish media have suggested the Revolutionary People's Liberation Party-Front (DHKP-C), a far-left armed group, could have been behind the attack.
Ankara Mayor Melih Gökçek earlier confirmed that no one died in the attack, even though one of the targeted buildings was a facility where mass celebrations are often held.
"Activities such as weddings are organized in this facilities building on weekends. It is a miracle that there were no casualties," Gökçek told CNN Turk.
Dikmen district in the Turkish capital has been fraught with tension ever since the authorities announced several urban renewal projects. One of those presupposes the destruction of 3,000 trees in ODTU's campus to make way for the building of a new road.
The re-development plan for Istanbul's Taksim Gezi Park sparked massive protests in May 2013, with demonstrations eventually growing into a countrywide action of those unhappy with the current Turkish government. The widespread unrest has not subsided since that time, with street protests having become a regular thing most often ending up in clashes between activists and police.