Endangered tiger saves face thanks to Russian kids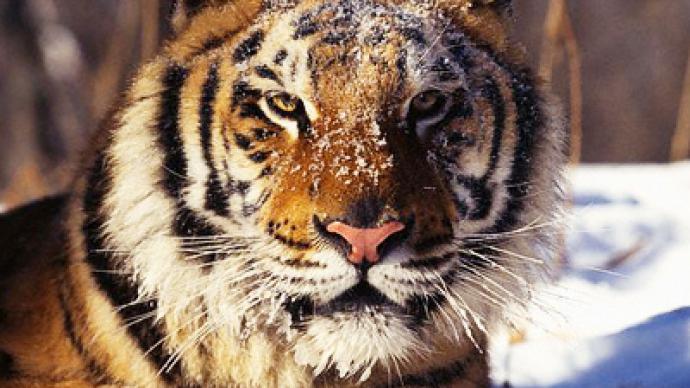 While the world's biggest cat species faces its toughest fight for survival, efforts to save Russia's dwindling tiger population are showing their first shoots of success.
There are just a few hundred Amur tigers left, as poachers and a loss of habitat continue to drive them towards extinction.That's why when Zhorik the Amur tiger fell victim to a misdiagnosis and a failed facial operation, he touched the hearts of thousands and sparked a massive fund raising campaign to save him."Our biology teacher told us about the tiger and we heard this story. We all felt sorry for him and decided to help," say children from one of the Far East schools. "We're glad our school volunteered to help the tiger," they add.Thousands of dollars later and Zhorik has had extensive surgery on his face and even found a new home in the Khabarovsk Region.His face now might not be the prettiest one, but it is one that has become much loved. And the efforts to help him continue. "He's going to need more operations, it will be done in several stages – five or six. It's certainly going to be a long process," says Eduard Kruglov, chairman of the Khabarovsk Regional Foundation of Biodiversity Preservation and Wild Animals Rehabilitation. "It's not just Zhorik that needs help," he adds. "The beautiful Amur tigers have caught the attention of the international community with Russia now leading the way to save this endangered species."Russia has heavily invested in preserving its tiger population, with Prime Minister Putin personally endorsing international protection campaigns alongside celebrities such as Leonardo DiCaprio.However, despite these efforts, it is now estimated that fewer than 500 of these cats remain in the wild. And a recent report revealed worrying statistics that these animals come from a limited gene pool – increasing the potential for genetic diseases and other illnesses amongst the population.They were once a familiar sight across Eastern Russia, Northern China and the Korean Peninsula. Now deforestation has overtaken poaching as their biggest threat. Stripped of their natural habitat, the numbers continue to dwindle.It has made the continued efforts to save Zhorik that much more important. "When we found out about Zhorik, we started raising money right away," explain the schoolchildren. "The dangers facing the Amur tiger are a national problem. And we have to solve this problem together. It'll be no use if we're not united."Thus, despite many challenges Russia continues its determined campaign to save the Amur tigers, even if it is one cat at a time.
You can share this story on social media: