American woman, UK man killed fighting alongside Syrian insurgency
Published time: 31 May, 2013 03:45
Edited time: 1 Jun, 2013 18:50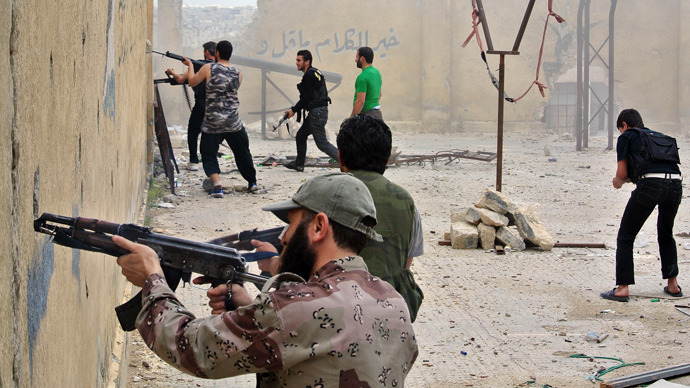 An American woman who converted to Islam after falling in love with an Arab immigrant has been killed fighting for opposition forces in Syria along with a UK national and another man, the Federal Bureau of Investigation has confirmed.
Nicole Lynn Mansfield, 33, was first identified by a Syrian television station, which broadcast images of her driver's license photo. Mansfield is shown in the picture wearing an Islamic headscarf and listing her address in Flint, Michigan, according to the Detroit Free Press. The Syrian news report claimed she and British companions were shot by President Bashar Assad's military.
The UK Foreign Office has confirmed on Friday a British national was killed in Syria. The deceased man's family has been informed and is receiving consular assistance, it added.
While the Syrian Observatory for Human Rights said that the killed UK national from London, it did not verify his identity. The Observatory added that "they were shot dead during an ambush" near the Turkish border in northwestern Syria.
The three individuals killed were apparently "taking photos of military positions" in the Syria's Idlib region, when the government troops ambushed them, the London-based NGO also said.
Two FBI agents confirmed the report to Mansfield's family back in Michigan, who expressed disbelief at the news. The family confessed limited knowledge of the Arab immigrant she married, and who Mansfield divorced three years ago, and was unsure of when she went to Syria.
"I'm sick over it. I didn't think she was [a terrorist], but god only knows," Monica Mansfield Speelman, Nicole's aunt, told the Free Press. "It bothered me that she converted to Islam and started wearing a headscarf." 
Mansfield was raised in the Baptist faith, her father working as a General Motors production worker. She became pregnant in high school but later earned her equivalency degree and moved onto community college. Mansfield worked for ten years at an old-age home and leaves behind an 18-year-old daughter. 
"She has a heart of gold, but she was weak minded," said her grandmother, Carole Mansfield. "I was stunned, totally stunned that she went over there, and got herself into what she got into. She had to have been brainwashed, she had to have been intimidated, but that was not Nicole. Nicole would never hurt nobody [sic], never...I didn't even know she was over in Syria."

The US is now working via the Czech Republic mission in Syria "to obtain more information," an unnamed US State Department official told Reuters.