'US-Pakistan marriage has failed' – former envoy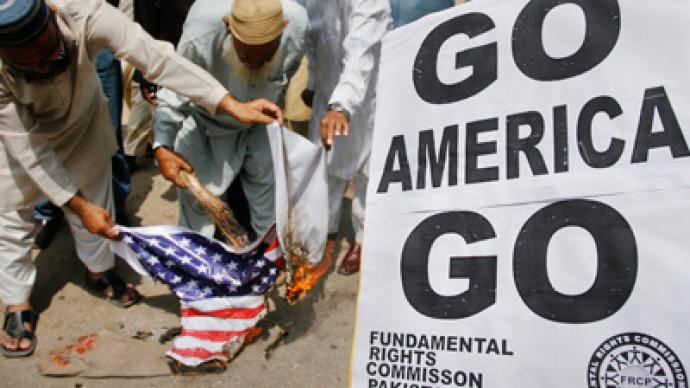 The America-Pakistan alliance should be divorced after decades of fruitless expectations, declared a former Pakistani ambassador to the US. The Washington and Islamabad union has been prejudiced by continuous "Drones vs Militants" wrangle.
"If in 65 years you haven't been able to find sufficient common ground to live together, and you had three separations and four reaffirmations of marriage, then maybe the better way is to find friendship outside of the marital bond," former Ambassador Husain Haqqani said, addressing the Center for the National Interest think tank in Washington, Reuters reports.The relation between two countries has been proved dysfunctional despite billions of dollars the US pumps into Pakistan's economy annually. Historically, since 1948, Pakistan has been among the top recipients of US aid, both economic and military.In 2010 alone Islamabad got nearly US$1.9 billion in economic aid and over $2.5 billion of military aid.The undeclared "drone war" the US is waging on Islamists militants on the territory of Pakistan has claimed a huge number of civilian deaths, as well as dozens of Pakistani servicemen killed by "friendly" fire. The incident with 24 killed Pakistani border guards last year was the last straw that made Islamabad close all American military transit to Afghanistan for eight months. Haqqani stated that the US should not expect the Pakistani authorities to drop their ties with radical Islamist militants."Equally unrealistic is that Pakistan … will give up support for jihadi groups that it deems to be a sub-conventional force multiplier for regional influence," Haqqani said.Official Islamabad, in turn, continues seemingly not to notice the safe haven that radical Islamists find in Pakistan.The Pakistan-based radical Islamist militants that include that include the notorious Taliban and Al-Qaeda terrorist groups were once fostered by the US secret services to fight Soviet troops in Afghanistan. After the US army invaded Afghanistan on the pretext the 9/11 terror acts had been originated from within the country, Washington had to fight the very same Islamists it once created. A fight waged for over 11 years now.Both sides are not likely to make concessions, believes Pakistani diplomat.

"I have no realistic expectation of the United States ending the drone campaign and [no realistic expectation of] Pakistan accepting it," he said.As a result of mass murder of Pakistani civilians by American drones up to three quarters of the country's citizens consider the US an enemy, according to a Pew research poll released in late June, recalled by Haqqani in his speech.Husain Haqqani dropped a veiled hint that the government and the military of Pakistan are not actually getting on particularly well, because Pakistan's national interests are defined "by generals, not by civilian leaders." The diplomat agreed that a greater civilian control over the army is needed in Pakistan.This rivalry between the government and the army had been well exposed by the case of Osama Bin Laden, who had been hiding on the Pakistani territory for years, evidently being supported by some high-ranking officials within the country.Unauthorized American operation to terminate the notorious terrorist did not add any trust to the American-Pakistani relations either. Haqqani, who was Pakistan's ambassador to the US at the time, told the audience in Washington that a full proper investigation on the Pakistani side is needed "to find out how Osama Bin Laden lived in Pakistan and who supported him – within or outside the government." "I really do not know [who helped bin Laden]. All I am saying is that somebody knew," Pakistani diplomat said.He revealed that he personally supports good relations with the United States, but people like him "do not have the ability to influence the course of policy at home." On the other hand, Haqqani said, the American policy towards nuclear-armed Pakistan is short-sighted and lacks "historical perspective" to be realistic.The diplomat who used to be a trusted advisor to Pakistani Prime Minister Benazir Bhutto, tragically murdered by a suicide bomber, insists that it is exactly the downgrade of American-Pakistani relations that would enable the two countries to treat each other more pragmatically, and therefore effectively.Haqqani, ambassador to the US from 2008-2011, shared plans to publish a book entitled "Magnificent Delusions" on the US-Pakistan relationship in 2013. The diplomat was framed last year for a memo accusing Pakistani army of plotting a coup, an allegation he had to defend in person before Pakistan's Supreme Court.The former Pakistani Ambassador has been recently appointed a senior fellow and director for South and Central Asia at Hudson Institute in Washington, the future-oriented policy research organization.
You can share this story on social media: