America can learn from us: Chechen President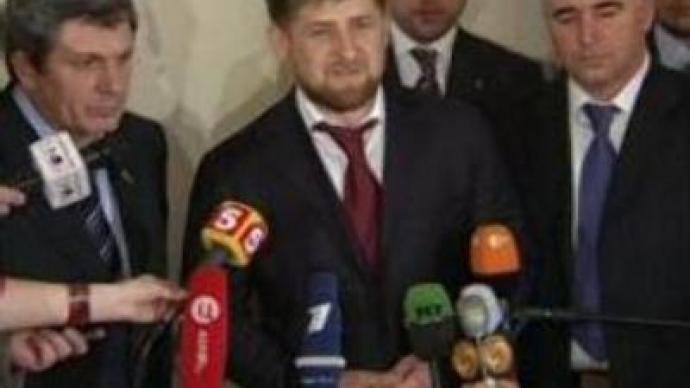 Speaking in Moscow, Chechnya's President Ramzan Kadyrov said his country has made a huge leap forward towards settling conflicts in the region, and has offered to help the U.S. combat terrorism.
"For the U.S. and other countries, it is very important to combat international terrorism. However, Islam has never called for war. Islam is the most friendly and industrious religion. So we have proved that it's the Muslims and Chechens who have defended Russia, while fighting in the battle fields. So, I think the experience will be of good use to the Americans. If someone is strong, it doesn't mean he has to kill other people. He must forgive other people. If someone behaves inappropriately in the eyes of the U.S., it doesn't mean others have the same view. Amnesty is the primary lever for the stability in our region,"
stressed Mr Kadyrov.He made this statement in Moscow, where Ramzan Kadyrov met Chechen businessmen. He promised to eradicate traces of war in the republic by 2009 and asked for help.With the elite of Chechen business at the table, Ramzan Kadyrov urged them to spare part of their fortunes for the reconstruction of the war-torn republic.
"I personally don't want anything from you. But we need to re-build our republic for the sake of our children. And to achieve that, we have to unite,"
stressed the President of Chechnya.Some of the businessmen take calls to re-build Chechnya quite literally.
"I'm now re-building a house where I was born. My parents can't wait to move there. I think if everybody re-builds his own house that would mean re-building Chechnya,"
Ruslan Baisarov, a Chechen businessman said.Mr Kadyrov also pointed out that his republic has wide experience in fighting terrorism, and crime in Chechnya is now much lower than in other regions. He said the Chechen Republic is ready to 'share experience and give all necessary information and aid'.In this regard, a U.S. State Department delegation will visit the Russian republic of Chechnya in April to gain experience in how to settle regional conflicts, as the Russian Deputy Interior Minister, Arkady Yedelev informed.Mr Yedelev said the United States is bogged down in Iraq and anti-war rallies in America are attracting thousands of protesters.Meanwhile, a member of an illegal militant group has been killed in a shoot-out in the city of Gudermes in Chechnya.The Republic's Interior Ministry spokesman, Magomed Deniyev, said the man was a suspect in a number of crimes and put up armed resistance during a special operation, in which he was killed. One of the police officers was wounded.The spokesman also said a cache with ammunition has been found in the Republic. It contained mortar shells, grenade launchers, mines, and a self-made explosive device.
You can share this story on social media: