Amazon used 'neo-Nazi' guards to control workers in German factory scandal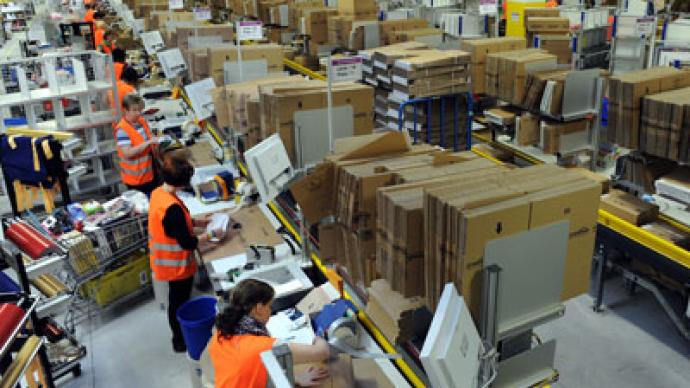 Internet giant Amazon has been accused of abusing thousands of foreign workers in its German warehouses. An investigation claimed the company employed guards who may have neo-Nazi links, who intimidated and bullied temporary staff across Germany.
A documentary filmed by Germany's ARD television channel shed light on the conditions in Amazon's packing and distribution centers during the Christmas rush, when thousands of extra workers are brought in to cope with rising demand.A number of immigrant workers featured in the film testified about the treatment they were subjected to by security guards the company employed to "keep the order."The film depicts guards in military-style uniforms patrolling the hostels and other budget accommodations housing the mostly foreign workforce. Employees described the atmosphere of fear and intimidation they said the guards incited."They tell us they are the police here," a Spanish woman stressed in the film. Another worker told ARD that she had been intimidated into leaving the chalet where she was living with five others for drying her clothes on a radiator. Photographic evidence showed that the guards repeatedly conducted searches of workers' quarters without any prior warning. The firm that supplied the security guards to Amazon is known as HESS Security. The film showed guards dressed in hooded black uniforms of the Thor Steinar clothing brand. The brand became prohibited apparel for both the Bundesliga football association and the federal parliament due to its neo-Nazi associations. The documentary adds that Amazon stopped selling Thor Steinar brand clothes in 2009, and suggests that the name HESS is connected to Rudolf Hess, Adolf Hitler's deputy and a neo-Nazi icon. Officially, HESS stands for Hensel European Security Services.Amazon emphasized that it "tolerates no discrimination or intimidation," and would thoroughly investigate all claims. "Even though the security company wasn't hired by Amazon we are of course examining the allegations… and will take appropriate measures immediately," an Amazon spokesperson said in an interview with AP.
A checkered past
This is not the first time Amazon has hit the headlines for questionable working conditions. A Financial Times expose revealed less-than-favorable conditions in a UK Amazon warehouse, where workers were under constant pressure to meet targets."You're sort of like a robot, but in human form," an Amazon manager told the Financial Times. "It's human automation, if you like."Employees described how they were constantly hounded by their managers, and were rebuked for the slightest drop in efficiency."People were constantly warned about talking to one another by the management, who were keen to eliminate any form of time-wasting," one former worker said. Amazon has been praised for creating thousands of jobs in the midst of the financial crisis in the UK. However, many have become disillusioned over the poor working conditions and lack of job security.
You can share this story on social media: