Alliance has not been slow in Libya – NATO chief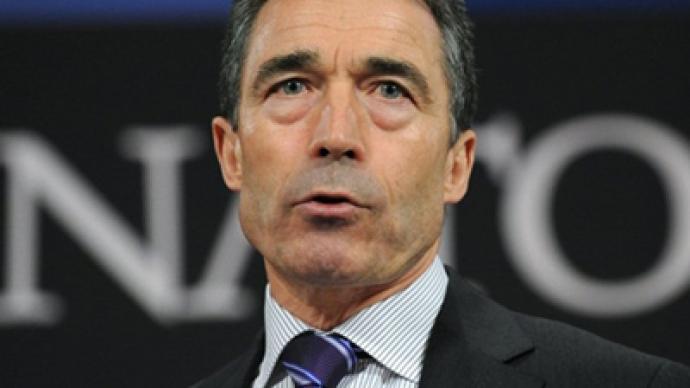 NATO's reaction to the situation in Libya was well-timed, the alliance's secretary-general, Anders Fogh Rasmussen, said on Wednesday, adding that the Western coalition will leave the country as soon as the country's citizens are no longer threatened.
"I don't agree with (the description of) NATO being slow, we have kept a very high operational tempo," Rasmussen told reporters at a meeting of foreign ministers in Qatar to discuss Libya's future. "Our operations will end when there is no longer a threat to civilians on the ground." The news comes amid reports that the coalition has resumed air strikes on the outskirts of Tripoli. Earlier, France and the UK pushed the alliance to step up the assault on Colonel Gaddafi, and are considering arming the rebels."The aim is very clear, Gaddafi must go but we need a political solution," French Foreign Minister Alain Juppe said."We must keep up a strong and robust military pressure to convince Gaddafi there is no way out.""There is a very heavy chance of a ground invasion in Libya," the rector of Transcend Peace University, Johan Galtung, told RT. "This is Western imperialism or colonialism in the last stages of a desperate effort to regain something that they've lost. France and England were the biggest colonial countries which dominated Africa. And at the same time, the US is, practically speaking, bankrupt."However, NATO forces will not conduct the whole operation by themselves, Galtung argued. "They want to get in, they want to strengthen and let the people in Benghazi do the job for them," Galtung declared. "To bring an end to Gaddafi, or hopefully get him out of the country." "There is a division among the Western forces. However, the main target is to co-opt a truly democratic, ground-up revolution into a foreseeable government that would serve the interests of oil-using and business-marketing Western nations. Nothing has changed," independent journalist Moe Seager told RT.
You can share this story on social media: