Russians arrested in US tech export scandal reportedly being pressed to confess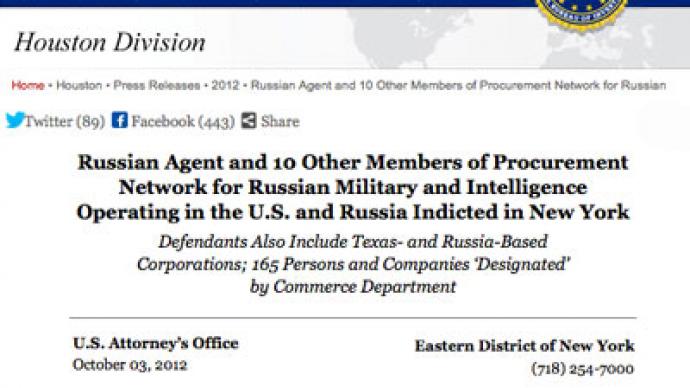 Russian nationals detained in the US for reportedly illegally exporting high-tech microelectronics to Russia are being subjected to psychological pressure to confess their involvement in an alleged illegal activity, the Russian Foreign Ministry said.
The Ministry demanded that the US to cease putting "psychological and moral pressure" on the detainees to extract a confession.Denis Galeev, the husband of the suspect Anastasia Dyatlova, told RIA-Novosti news agency that his wife was allowed to call him on Friday for the first time since her arrest."She told me all three of them are sleeping on the floor because their cell is overcrowded and getting a plank bed is only possible if someone of the prisoners is released or transferred," Galeev said.He also claimed that his wife is being denied money he sent her to buy hygiene products like a toothbrush, toothpaste and shampoo.On Friday, the Houston court denied bail to the three detained women: Dyatlova, 38, and Viktoriya Klebanova, 37 – both of whom have dual Russian-American citizenship – and Azerbaijani national Sevinj Taghiyeva, 32. The court said that the decision was made over fears that the suspects might flee the country, since they do not have strong domestic ties to the US."Unfortunately, the court failed to listen to the arguments of the defendants and refused bail to the arrested Russian citizens under a vain pretext. Russian diplomats in cooperation with the lawyers are going to gain revision of the unjustified decision and also suspension of the psychological and moral pressure on Russian citizens in order to force them voluntarily admit their guilt," the Russian Foreign Ministry said in a statement.During the preliminary hearings on Thursday Judge George Hanks said that he was prepared to sign the order to immediately transfer the alleged spies to the court in Brooklyn, New York, which originally issued the arrest warrant for the Texas residents.On October 2, the FBI arrested 11 people and charged them with illegally exporting high-tech microelectronics to Russian military and intelligence agencies.The FBI press release said the microelectronics that were allegedly exported to Russia could potentially be used in a wide range of military systems.All of the arrested deny their guilt.Russian Upper House member Viktor Ozerov told RT that the emergence of another Russian spy scandal one month before the US presidential contest hints that the case could be connected to the country's elections.Russian officials denied that the suspects were working for the Russian arms industry.Deputy Prime Minister for Russia's military manufacturing industry Dmitry Rogozin claimed that his department had no contact with the alleged spies. Rogozin said that the group arrested in US may have had other customers in Russia.The hearing will begin in New York on October 17.
You can share this story on social media: