Alleged police violence at rallies in Russia: investigation to follow?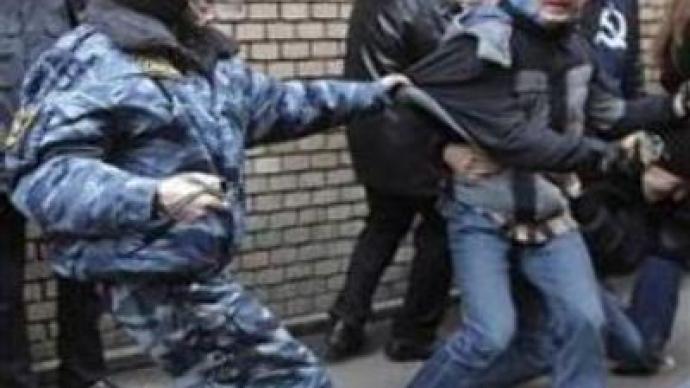 After a series of recent opposition protests in Moscow and St. Petersburg, accusations of excessive use of police force appear to have caused concerns both in Russia and abroad.
A number of Russian and foreign authorities have called for an investigation into citizens' complaints.Pictures showing police using violence against both activists and journalists along with mass detentions of participants have sparked criticism from both human rights activists and the international community.Germany, currently holding the European Union presidency, has demanded Moscow explain its actions while the United States has expressed deep concern over the degree of force used in restraining protesters. Kremlin has defended the actions of the police, and President Vladimir Putin's First Deputy Press Attaché Dmitry Peskov admitted they "overreacted" in their treatment of demonstrators. He said, however, in many cases, the extreme nature of the protesters meant the police were forced to react.
"In many respects the opposition has grown together with the radicals, including ultra-radicals, you know perfectly who I mean,"
Mr Peskov said.
"What you mean when you talk about the standoff between the rallies participants and the police was in fact the attempt of the police to combat the provocations of those ultra-radicals. The police were performing their duty".
Russia's special European Union envoy Sergey Yastrzhembsky said the police response was in line with accepted practice in other cities across Europe.
"It is the people who refused to express their views legally in the designated areas that have something to answer for. By behaving this way they forced the police to react. I think they did it first and foremost to make headlines in the foreign and the Russian media. As for complaints by certain protesters and journalists against individual policemen, there are special rules for investigating these. And I believe it is absolutely appropriate to investigate in those cases where police may have exceeded their powers,"
he said. Since then, protests, not only general criticism, but complaints against individual policemen have been levied. The officials' position is clear. Everyone must answer to the rule of law, whether they be protester or policeman.
"In every country the law must be respected,"
Russia's Security Council Secretary Igor Ivanov stressed.
"So if we use force to express disagreement and it goes against the imposed order, then, unfortunately, we have problems as we saw in this case. We do not only see that in Russia, but in other countries, too. So I have a simple answer to this: all big and small organizations that want to express their point of view have to do it via legal means, and everything will be fine".
However, speaking at a press conference on Tuesday, former President of the Soviet Union Mikhail Gorbachev indicated the law might not be enough. He said the protests seek to make waves not only in the short term but also in the long term, and could undermine national stability.
"Some people want to further complicate the situation, to bring about instability,"
Mr Gorbachev said,
"I think the most important thing here is for the press and everyone else to meet with our young people so they do not become victims of these political profiteers".
Council of Europe's General Secretary Terry Davis has also voiced concern over the break-up of the rallies but says he will avoid jumping to conclusions, hoping instead to build an objective picture of the incident through consultation with Russia. He also strongly denied claims that Russia struck a deal with the council's Parliamentary Assembly ratifying a document on European human rights court reforms in order to secure a less vitriolic reaction to the protests.The Russian authorities have pledged to look closely into the incident, and in particular to study the measures used in combating radical groups.In the meantime Russia is left with a disturbing precedent. Whether or not the police were guilty of human rights abuses has not been officially confirmed, but accusations continue to fly.
You can share this story on social media: