Over 360 killed in Syrian army airstrikes on Aleppo - activists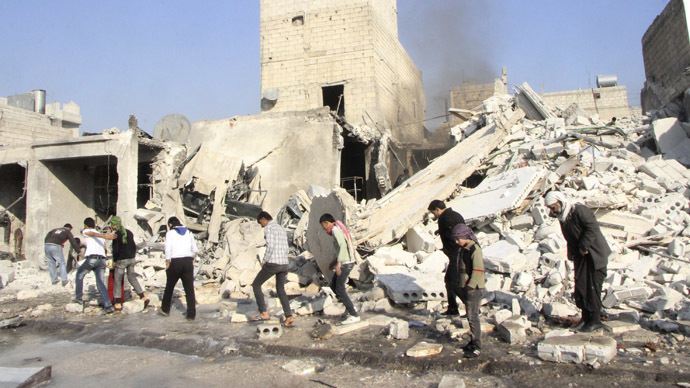 Syrian warplanes have killed at least 15 people in Aleppo, raising the death toll to over 360 during the past 10 days of bombings, activists said. The opposition says it will not attend the Geneva-2 peace talks if the regime continues to launch air raids.
The UK-based Syrian Observatory for Human Rights (SOHR) said the airstrikes hit Aleppo's opposition-controlled Sukkari district on Tuesday, killing eight civilians and injuring several others. Government forces also bombed the city's Marjeh neighborhood, which resulted in the deaths of five civilians - including three children.
Several other areas of Syria's largest city were attacked as well, although there have been no reports of casualties, SOHR said on its Facebook page.
According to the group, Syrian helicopters dropped "barrel bombs" – oil drums or cylinders packed with explosives, nails, and metal fragments – during the air raids.
The Aleppo Media Center - a separate activist group - put the death toll of Tuesday's attacks at 33, with 150 others wounded, AP reported. According to the organization, strikes carried out by jets and helicopters hit at least three sites - causing extensive damage, ruining apartment buildings, and setting houses and cars ablaze.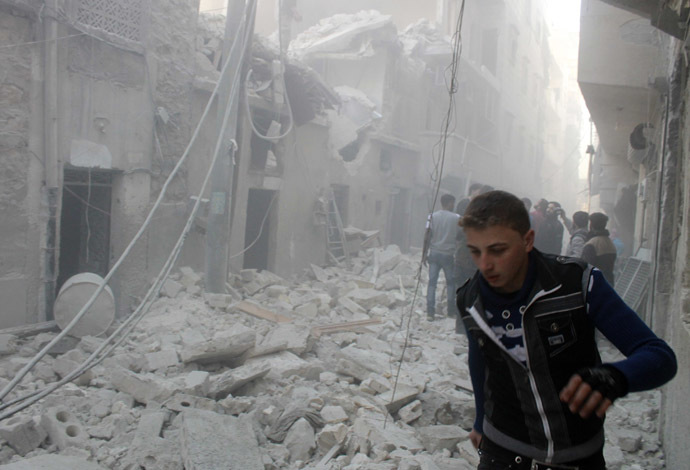 In total, over 360 people have been killed since President Bashar Assad's air force began launching aerial attacks on Aleppo on December 15, according to rights activists.
The attacks hit busy shopping areas and residential neighborhoods, often killing dozens of civilians. The assaults "either [missed] possible military targets or [showed] little indication of any intended military objective in the vicinity," Human Rights Watch (HRW) said in a Saturday statement. The organization accused the government airstrikes of being unlawful.
"Government forces have really been wreaking disaster on Aleppo in the last month, killing men, women, and children alike," said HRW senior emergencies researcher Ole Solvang. "The Syrian Air Force is either criminally incompetent, doesn't care whether it kills scores of civilians – or deliberately targets civilian areas," he added.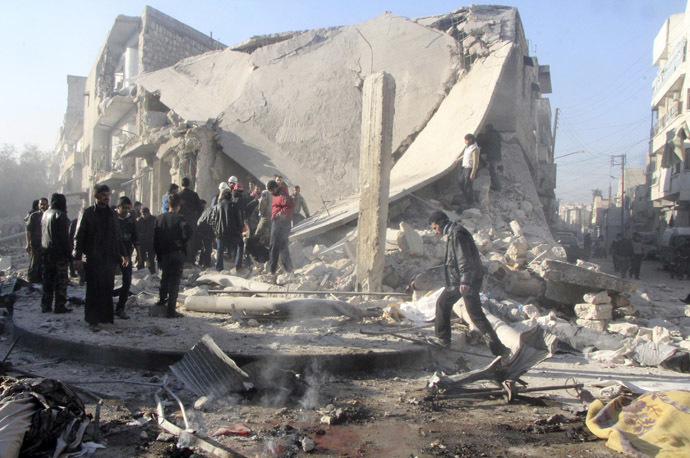 In response to the aerial assaults, the opposition's Syrian National Coalition said that it "cannot in good conscience participate in peace talks in Geneva as Assad regime forces continue to bombard the city of Aleppo and surrounding areas for the ninth consecutive day," as quoted by Reuters.
Washington has also condemned "the ongoing air assault by Syrian government forces on civilians, including the indiscriminate use of SCUD missiles and barrel bombs in and around Aleppo over the last week," White House spokesman Jay Carney said.
Aleppo, Syria's largest city, contains economic and strategic importance. It has been split between government forces and the Free Syrian Army and its allies since July 2012.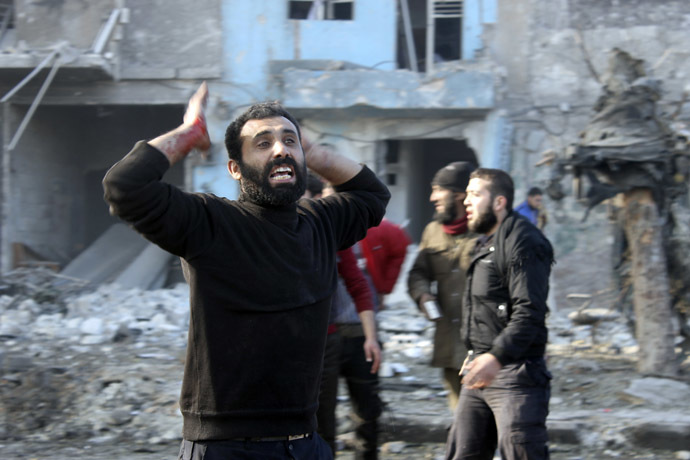 Damascus has yet to make any official comments on the bombings. According to SANA news agency, the government has not confirmed the use of "barrel bombs."
An official military source told the agency that regime forces eliminated "terrorist strongholds" in Shaykh Najjar, located 10 kilometers northeast of Aleppo, and two other nearby locations. Rebel forces also "sustained losses" in Aleppo's Masaken Hanano neighborhood and several other residential areas, the agency said.
President Assad said on Monday that Syria is being confronted with a major offensive by Islamist extremists. He said that takfiri extremist ideology – a term used to describe Sunni Muslim militants – is terrorism "that knows no borders." Assad added that the events in Syria and the region are affecting "the entire world," AFP reported.
The long-awaited internationally-brokered Syria peace conference, known as "Geneva-2," is scheduled to begin on January 22 in the Swiss city of Montreux. Around 30 nations are expected to attend the gathering. However, actual negotiations between Assad's government and opposition envoys are scheduled to start two days later, on January 24, in Geneva. It remains unclear who will represent the opposition at the talks.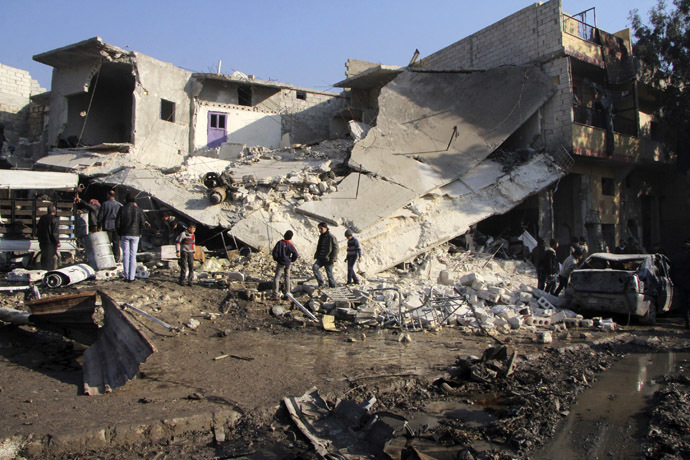 You can share this story on social media: