Al-Jazeera journalists kicked out of Egyptian military press-conference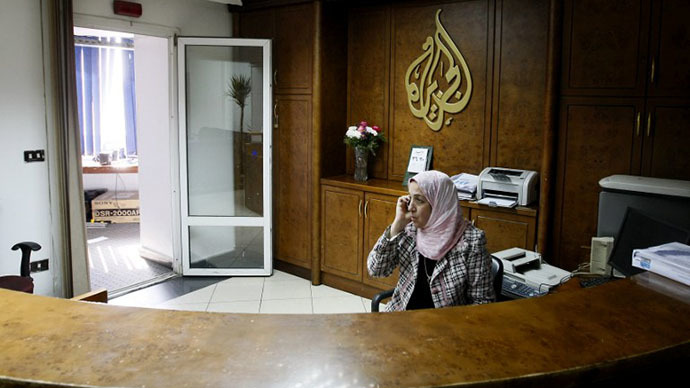 The journalists for pan-Arab broadcaster, Al-Jazeera, were booed out of a news conference on Monday morning being held by Egypt's military on the killing of 54 people, mainly of ousted president Mohammed Morsi supporters.
During the news conference in Cairo, one of the journalists stood up and demanded Al-Jazeera reporters to be banished from the event, AP reports.

The call was supported by the crowd and the employees of the Doha-based channel were eventually forced to leave the conference room, accompanied by chants of "Out! Out!"

Al-Jazeera was founded by Qatar's ruling family, which were strong supporters of deposed Egyptian President, Mohammed Morsi and the Muslim Brotherhood, who were toppled by the country's military on Wednesday.

The station broadcast graphic images of those killed and wounded in the violence at Republican Guard's headquarters on July 8.

Al-Jazeera's stance already saw its Cairo office stormed on two occasions, during less than a week that military has been in power.

Three members of the broadcaster's staff were arrested during the raids, which were widely criticized by human right organizations.

All the detained were later released, including journalist Abdul-Fattah Fayed, who was set free on Monday after spending two days in custody.

The Public Prosecution ruled to release Fayed on a bail of 1,000 Egyptian pounds (£1,000). He was investigated over charges of spoiling the public mood, endangering the safety of society and provocation.

Al-Jazeera staff quit in protest at "biased" Egypt coverage – report

Meanwhile, the "biased coverage" of events in Egypt is allegedly causing serious discontent among the company's staff as Gulf News reports that 22 employees of Al-Jazeera Mubasher Misr news channel resigned on Monday.

"The management in Doha provokes sedition among the Egyptian people and has an agenda against Egypt and other Arab countries," anchor Karem Mahmoud explained.

He said that the management used to instruct each staff member to favor the Muslim Brotherhood, adding "there are instructions to us to telecast certain news".

Another of those who quit, correspondent Wessam Fadel, told Gulf News that when the protesters celebrated Morsi's ousting in Cairo, Al-Jazeera aired old footage showing an empty Tahrir Square, claiming it was current.

"Unfortunately, I was working in a place which I thought had credibility, but its credibility is based on a despicable political position," he said.  

The network's correspondent in Luxor, Haggag Salama, announced his resignation in phone-in interview with local Dream 2 channel on Sunday, saying Al-Jazeera is "airing lies and misleading viewers".
Gulf News also reports four Egyptian members of the editorial staff at Al-Jazeera's headquarters in Doha, have resigned in protest against what they called a "biased editorial policy" pertaining to the events in Egypt.

You can share this story on social media: