Major airline delays worldwide after Sabre reservation system crashes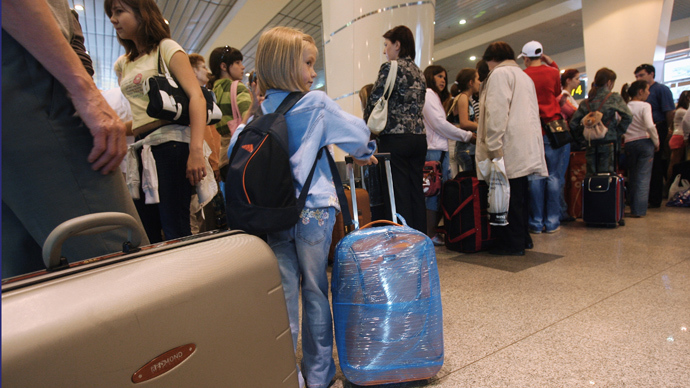 A massive computer outage at Sabre airline reservation system overnight was blamed for worldwide flight delays.
The system went down went down at 12:20 a.m. ET (05:20 GMT) on Tuesday morning. The company confirmed the outage, saying its technology team is working to resolve the situation. Some two hours after the outage was reported, Saber announced bringing the system back online. 
Sabre systems are coming back online, and we are closely monitoring. We apologize for the inconvenience.

— Sabre (@SabreNews) August 6, 2013
Sabre is used by many airlines across the world. Among those affected by the outage are Alaska Airlines, American, Cathay Pacific, Frontier, Jet Blue, LAN, Quantas, United, Virgin America and Virgin Australia.
Сбой в системе Sabre привел к очередям во всех аэропортах мира. На стойках регистрации в Ереване сию секунду... pic.twitter.com/oujWpZrD97

— Inna Smbatyan (@inna_smbatyan) August 6, 2013
Virgin Australia, which implemented the Sabre system in January 2013, told Computerworld Australia that it switched to a manual check-in process for all domestic and international flights.
"As a result, the check-in process may take longer than usual and there may be some delays to flights," a spokesperson for the airline said. "We apologize for any inconvenience and we are working with Sabre to resolve the issue as soon as possible."
Waiting is the hardest part: Travelers delayed by computer system outage at Sea-Tac airport t.co/nPHOfxEEcY

— Q13 FOX News (@Q13FOX) August 6, 2013
Sheremetyevo International Airport in Moscow said it's booking services were not affected by the Sabre outage because it does not use the system.
Caos parece que resuelto en Sheremetevo tras problemas técnicos Check In pic.twitter.com/sm7rZ5HLco

— Pere Pont (@perepont_RT) August 6, 2013
You can share this story on social media: