Man-portable air defense systems could be stolen in Ukraine amid turmoil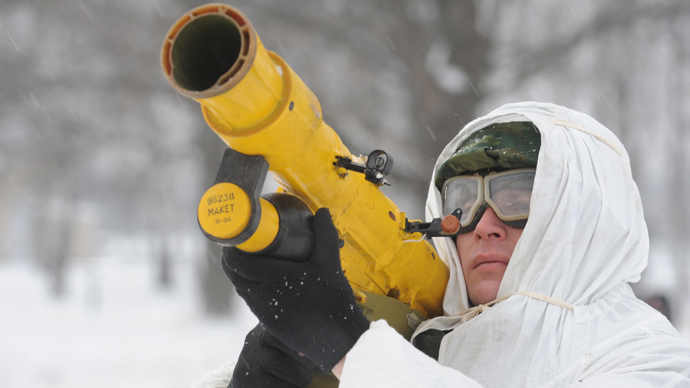 Highly dangerous type of weaponry – man-portable air defense systems (MANPADs) – have gone missing from two Ukrainian military units, according to a high-ranking official in Kiev.
Several, and maybe even several dozen 9K38 Igla (Needle) air defense systems (SA-18 Grouse in NATO's classification) have been stolen, a Ukrainian military official, who wished to remain anonymous, told RIA Novosti.

The shortage was, according to him, registered in Ukraine's 80th airmobile regiment, which had 54 MANPADs, and the 27th airmobile brigade, stationed 45 km away from Lvov, which possessed 90 Iglas.

The new leadership of the Ukrainian Defense Ministry is, according to the RIA source, taking measures to "camouflage the grave situation" by adding old and experimental items of the weapon to the stockpile.

The Igla MANPADs are designed to strike down low-flying targets. Their distribution is regulated by a number of international agreements since it's highly undesirable that this type of weapon gets into the hands of terrorists. Russia and the US have an agreement on MANPADs' distribution.

A large number of such weaponry was reported stolen from a military base in Benghazi, Libya in 2012, following the coup, which saw Muammar Gaddafi overthrown and killed.

There later appeared reports that Libyan MANPADs could have been obtained by insurgents, fighting against Assad in Syria.
You can share this story on social media: