Suicide bombers strike US Afghan base
Published time: 18 Dec, 2013 05:47
Edited time: 18 Dec, 2013 11:03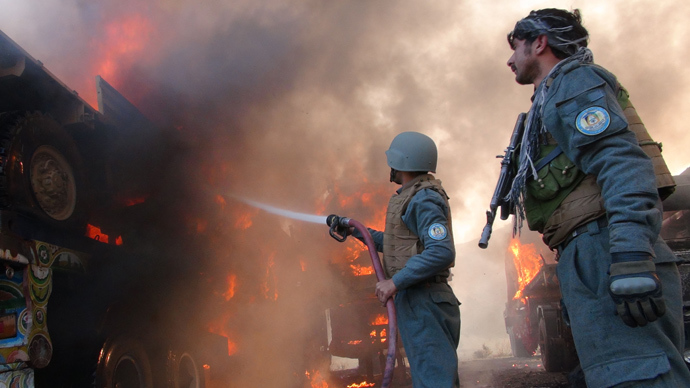 The Taliban has attacked a US military base in Afghanistan's eastern province of Nangarhar, bordering Pakistan. The base, located near the town of Torkham, was targeted by suicide bombers, RPG and machine gun fire, local media reports.
The attack was first reported by the city's chief of police, Noor Akbar, who said the insurgents struck at 5am local time.
Three suicide bombers first blew up a car at the gate of the parking lot ofthe NATO outpost near the Torkahm border crossing, a key supply route for the alliance. The explosion set off a fire that destroyed several of the privately-owned tankers. The attackers then stormed into the compound and a gun battle ensued.
"During the three-hour fight with security forces, one police was killed, five wounded. Several vehicles were torched," Nangarhar provincial spokesman Ahmad Zia Abdulzai told AFP.
"All attackers, who had military uniforms on, were killed."
The Taliban publicly claimed responsibility for the attack, releasing a statement to local media, which contained a different version of events, claiming that dozens of foreign troops, as well as "puppets" were killed. The latter is the nickname the Taliban give to NATO-trained local forces.
IDF attack at FOB Torkham ineffective. No #ISAF casualties. Three enemy killed. #Afghanistan

— ISAF (@ISAFmedia) December 18, 2013
Taliban spokesman Zabiullah Mujahid added that the compound had sustained heavy damage.
NATO says there were no casualties among coalition troops.
One cop killed and two injured, three security guards of the contractor company wounded too in Taliban attack in Torkham this morning.

— Ehsanullah Amiri (@AmiriEhsan) December 18, 2013
This is the second attack on the Torkham ISAF forward operating base in the last two months. It comes three days after another suicide bombing incident, in which the National Directorate of Security was targeted in the same town, injuring three of its soldiers.