Afghan pay day: Tokyo conference pledges $16 bln in aid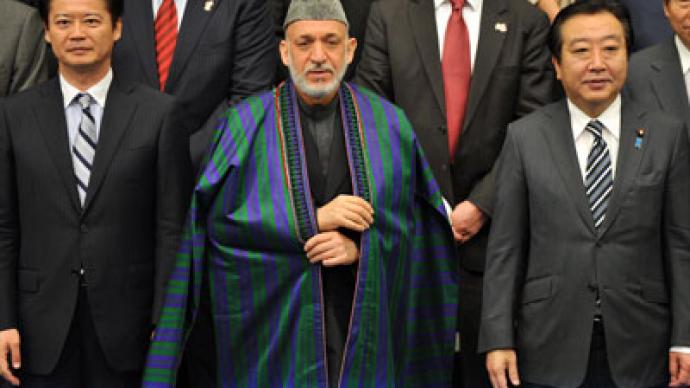 International donors have pledged to provide $16 billion dollars in funding to Afghanistan over the next four years. But the aid is conditional on Kabul implementing measures to combat corruption and bolster democracy.
Around 70 countries and organizations attended a conference in Tokyo to set the exact levels of aid funding for Afghanistan until 2016, an important transitional period during which foreign forces are slated to quit and hand their duties over to the country's security forces. The US is expected to provide around $ 1 billion every year, in line with the Washington's decade-long annual range for money going directly to the Afghan government. Japan, Afghanistan's second-largest donor, says it will provide a maximum of $3 billion up to 2016, while Germany stated it will chip in with $536 million per annum. The aid is intended to serve as a stabilizing factor as Afghanistan assumes more responsibility for maintaining its own security, with most international troops, including the US, scheduled to withdraw in 2014. However, Kabul will have to implement a number of measures to receive the billions of dollars in funding. It would have to establish better finance management in order to combat the excessive corruption that has paralyzed the governing process. Afghan authorities will further have to better safeguard democracy, the rule of law and human rights. "We have to face harsh realities filled with difficulties," Japanese Prime Minister Yoshihiko Noda noted. Before the conference, Japanese officials said they wanted to create a mechanism that would establish oversight on the way money was being spent, and to obtain guarantees that the aid funds would not be squandered. Afghan President Hamid Karzai, who also attended the conference, vowed to "fight corruption with strong resolve".On Saturday, US State Secretary Hillary Clinton made a surprise visit to Karzai in Kabul and declared Afghanistan a "major non-NATO ally", making it easier to provide weapons and military aid to the country. Karzai, in turn acknowledged that corruption was a "major problem". In the past ten years, Afghanistan had received nearly $60 billion in civilian aid, which is almost equal to its GDP, according to the World Bank.In addition to the aid fund package pledged during the Tokyo conference, NATO members also agreed in May to provide $4.1 billion for the country's security forces in the post-pullout period.