Afghan poisoning scares: Mass hysteria stemming from fear of the Taliban?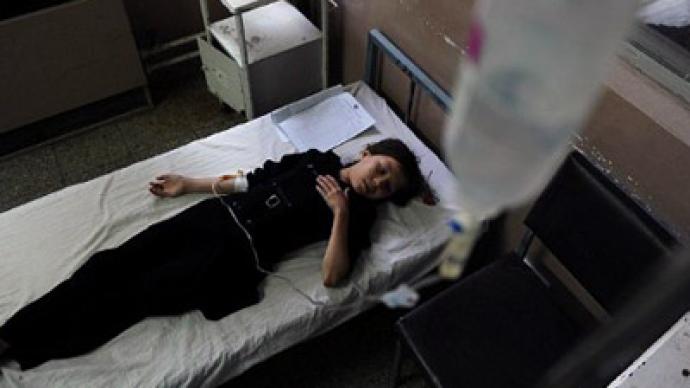 Afghan schoolgirls' claims of being poisoned last week could be a case of mass hysteria linked to fears of a Taliban takeover, some specialists say.
Last week a group of schoolgirls in the northern Takhar province felt ill and began fainting, so poison was considered a possible explanation. The Taliban were then blamed by local officials for contaminating the air with "toxic powder." The organization, however, has firmly denied any responsibility in a statement on Sunday through the Afghan Islamic Press.In April, over 150 girls suffered symptoms of what doctors suspected was poisoning in the same province. Fingers were also pointed at the Taliban, though neither the Afghan government nor NATO found any traces of poison. Another alleged case of mass poisoning happened in the eastern province of Khost in early May, with some 200 students falling ill. The Afghan government prompted the NATO's ISAF to take samples, but results came back negative for any poisonous substance.Meanwhile, within the past few years, Afghan officials have leaned toward mass hysteria being the cause for 'poisoning epidemics', since no group has confessed to carrying out any of the attacks. The Taliban are known for their aversion to girls attending schools, and their ban on the education of women from 1996-2001.
 Poisoning cases have all signs of "mass hysteria"
With no physical evidence established in recent cases, Robert Bartholomew, an expert with published works on Mass Sociogenic Illness ("mass hysteria"), told AFP that the poisoning scares had "all the earmarks of mass psychogenic illness, also known as mass hysteria".Bartholomew, who has collected more than 600 cases of mass hysteria in schools dating back to 1566 in Europe, said "the Afghan episode certainly fits the pattern.""The tell-tale signs of psychogenic illness in these Afghan outbreaks include the preponderance of schoolgirls; the conspicuous absence of a toxic agent; transient, benign symptoms; rapid onset and recovery; plausible rumors; the presence of a strange odor; and anxiety generated from a wartime backdrop."Bartholomew also cited examples of similar cases in combat zones, including cases from conflicts in Palestinian territories in 1983, Soviet Georgia in 1989 and Kosovo in 1990.He also believes that the mass hysteria fits into a "larger social panic involving the fear of Taliban insurgents." With the withdrawal of the 130,000 NATO troops in Afghanistan by the end of 2014, Afghan citizens worry that civil war could ensue, or that the Taliban could be re-established in their country.  The situation is more complicated to just attribute the mass hysteria to fear of the Taliban. "Two out of four Afghans suffer from trauma, depression and anxiety," the director of the government's mental health department Bashir Ahmad Sarwari told AFP. "They are in trauma mainly because of three decades of war, poverty, family disputes and migration issues." Meanwhile, many Afghan women are not willing to try their luck with what happens after the 2014 handover, and are leaving the country in droves.