Another blast hits Afghanistan, brings total death toll to at least 46
Published time: 14 Aug, 2012 13:20
Edited time: 15 Aug, 2012 09:35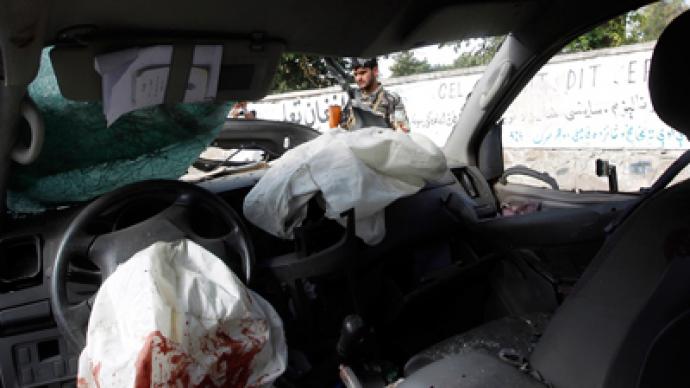 An explosion in the country's north has killed 10 people. Earlier, multiple suicide bombings in the southwestern province of Nimroz left at least 36 people dead, and injured over a 100 others.
Police said a motorcycle bomb outside a crowded bazaar in northern Afghanistan has killed at least 10 people, including several children.
The blast brought the death toll to at least 46 in a bloody day for the war-torn country, after as many as 14 suicide bombers were involved in attacks in the southwestern city of Zaranj.
The head of the Nimroz provincial health department Noor Ahmad Shirzada told reporters 110 people were wounded in Tuesday's attacks in the provincial capital Zaranj, citing reports from four hospitals. 
A doctor at one of the hospitals said most of the casualties were women and children.

The number of casualties could still rise, as sources within the police say ball bearings were used in the explosive devices. 
According to provincial Police Chief Mohammad Musa Rassouli, two of the bombers detonated their explosives at the provincial hospital in Zaranj city while the third attacker hit a crowded bazaar.
No one has claimed responsibility for the attacks so far, which are the deadliest in Afghanistan this year.

The deadly incident comes just a week after the UN released a report showing a 15 per cent decrease in the number of civilian casualties in the first half of 2012, compared with the same period last year.
Nimroz is one of Afghanistan's relatively peaceful provinces but has recently seen an increase in violence. On Saturday, a man dressed as an Afghan police officer killed 11 officers in the remote Dilaram district of the province.