Afghanistan's security is our continued effort and struggle – Afghan president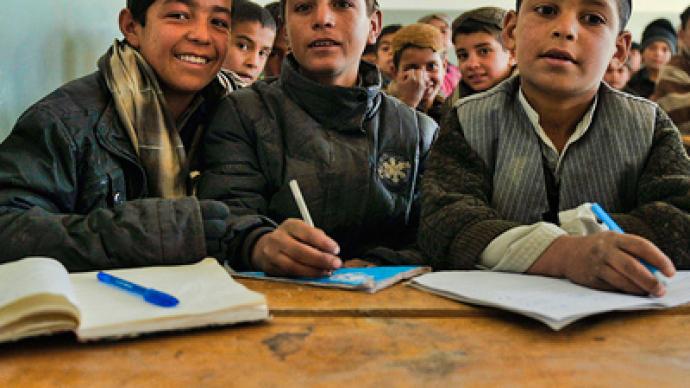 Ahead of his meeting with Dmitry Medvedev, Afghan President Hamid Karzai spoke with RT about his plans for solving the problems that are plaguing Afghanistan and spilling beyond its borders.
When Hamid Karzai was elected President of Afghanistan in 2004, he had many hopes and aspirations – "that we'd have a peaceful Afghanistan, a stable Afghanistan, an Afghanistan in close contact and neighborly relations with its neighbors and near-neighbors." He said it should be "a country that would progress into a better economy with better living standards, and the Afghan children who were deprived of education for so many decades would go to school." Some of those aspirations "have been met, some have not," he said. "We managed to achieve a better economy. We have more than 20 universities right now, a booming construction industry and independent sovereign Afghanistan," he said. "Of course, one of our greatest aspirations – security for the Afghan people – peaceful Afghan people – for the whole country, has not come – and that is our continued effort and struggle." Hamid Karzai said he had been strongly attacked by the Western media for many years – "partly because of their lack of understanding of Afghanistan and its situation, partly because of politics. And when you are in a country like Afghanistan, where there is so much world attention, where there is so much conflict, where there is so much rivalry, so many interests involved, it's only natural that criticism like that would take place.""The Western media are unfortunately extremely simplistic in their study of Afghanistan, in their analysis of Afghanistan," he said. "Imagine if the Afghan media were writing about politics or life or society in America or in France, what would they write? They lack information about us. It's simplistic and rudimentary at best."As for the war on terror, it is "a struggle for all of us," Hamid Karzai said."The war on terror – to the extent that war on terror is concerned – is a struggle for Afghanistan, for the US, for Russia, for Muslim countries, for all of us."Karzai said that the Afghan government has managed to cut back poppy cultivation on the territory it controls."Where we are in charge – the Afghan government – we have reduced poppies in 22 provinces of Afghanistan. In some of those provinces we have completely eliminated poppies. Where we are not in charge – in one or two provinces where there's Taliban or where there are more foreign forces, poppies have increased and that's a problem," he said."Those who grow poppies in Afghanistan, grow them out of desperation. I know people in Afghanistan who destroyed their vineyards, their pomegranate orchards to replace them with poppies. And that must have been done out of absolute desperation. The trafficking is an entirely different matter." Hamid Karzai said that the international drug trade is something that is beyond Afghanistan's means to fight. "That's an international matter for us to fight together," he said."We cannot fight the flow – if you cannot stop it in Russia – you are a much more organized society, you are a much more effective government – if the US cannot stop it at the border with Mexico, with all that policing and ability," Karzai said. "The international community is in Afghanistan because we have been destroyed by years of foreign destruction. The infrastructure is gone, the ability is gone, the civil services weakened. That's why Russia is helping our police force, that's why America is helping our military. Had we the capability to prevent supply from Afghanistan to other countries, of course we would have done it."President Karzai also said Russia and Afghanistan should cooperate in many areas."There's need for Russia and Afghanistan to engage with one another, not only in a matter of Russia helping Afghanistan to rebuild and redevelop its institutional capacity but also by means of trade, investment, by interaction between our businesses which is very strong."He added that Russians have a better understanding of Afghan mentality than Americans."Russia is both European and Asian and Russia understands Afghanistan culturally better and we understand it culturally better," he said.
You can share this story on social media: