Afghan slaughter suspect had criminal record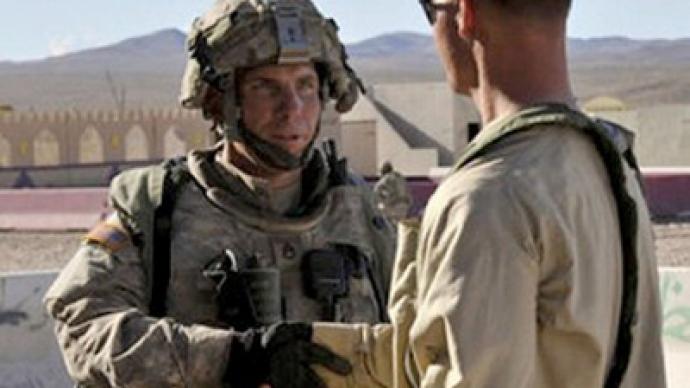 Reports are emerging that the American soldier suspected of killing 16 Afghans in a nighttime rampage has a criminal record. The man identified as Staff Sgt. Robert Bales remains locked up in solitary confinement in Kansas, awaiting charges.
Bales, who was flown to the prison at Fort Leavenworth on Friday following eleven years of service, has been found out to have had tough times in his home country before and in between his numerous deployments to the Middle East.This includes a misdemeanor arrest for assaulting a girlfriend in 2002, which cost Bales twenty hours of compulsory anger management; and two instances of reckless driving. He was caught drunk behind the wheel in 2005, but did not face charges. Three years later, Bales paid $1,000 in fines and restitutions for a hit-and-run. The man said he fell asleep driving. The case was dismissed, according to the Associated Press.When the soldier returned from his last deployment in Iraq he had difficulty reintegrating, including marital problems, ABC News reports citing its own sources. By that time, Banes is also said to have gone through an advanced treatment for a mild traumatic brain injury (TBI).But officials that deployed Banes to Afghanistan concluded that the soldier had worked through all of his health and social issues. This is already argued by medical experts appraising the current situation. If the suspect's mental breakdown is confirmed, the US military may fall under heavy criticism.Bales' neighbors and relatives draw a picture of a family man and just a "good guy," but what he is accused of now can hardly be called a sane pattern. He is said to have left his military base at night to shoot sleeping women and children in several households in two nearby villages – after which he turned himself in, quite calmly.Afghan investigators say more than one soldier were operating in Kandahar province on the night of the shooting spree. According to their probe, 15 to 20 people split in two groups assaulted the villages in the country's south previous Sunday. These suspicions are shared by Afghan President Hamid Karzai, who says killing so many people in two separate locations within one hour would take more than one soldier.Despite the findings and Karzai's pronounced reprimand, Washington still insists the soldier acted on his own.What Afghans demand now is justice and that the suspect at least be tried in Afghanistan. Pentagon officials said that Bales being brought back to the US does not necessarily mean that military court proceedings will be held outside Afghanistan. Whatever the location, if the court finds Bales guilty, he may face capital punishment.
You can share this story on social media: