Afghan president threatens NATO with war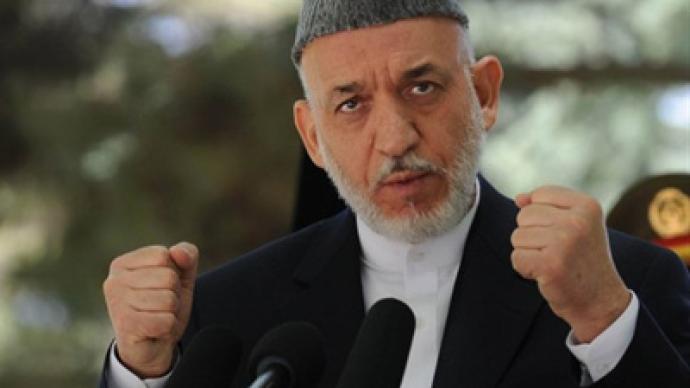 The president of Afghanistan, Hamid Karzai, warned that Kabul may view the NATO-led coalition as an occupying force, recalling the Afghan people's experience in dealing with occupants, unless NATO stops killing civilians.
The harsh words came on Tuesday in response to an aerial strike, which killed at least nine people in the southern Helmand province last week, most of them children."NATO must learn that air strikes on Afghan homes are not allowed and that Afghan people have no tolerance for that anymore," Karzai told reporters at a news conference in Kabul. "If they don't stop air strikes on Afghan homes, their presence in Afghanistan will be considered as an occupying force and against the will of the Afghani people."Karzai stressed that he had warned the NATO command after similar incidents "a hundred times" and that the situation must now change.NATO responded to Karzai's statements on Tuesday, saying the aerial strikes will not stop because "they continue to be necessary," Associated Press reported. Spokeswoman for the alliance Oana Lungescu said the Afghan president's concerns are taken very seriously and that NATO makes every effort to avoid civilian casualties.Earlier on Monday the command of the International Security Assistance Force (ISAF) expressed its condolences over the civilian deaths in the Saturday air strike. Major General John Toolan, ISAF commander for south-western Afghanistan, stressed that the strike was aimed at a compound, where Taliban gunmen were hiding and that presence of civilians there was not known to the NATO troops until after the attack.The ISAF routinely uses air strikes in their anti-insurgency campaign in Afghanistan and neighboring Pakistan. The tactics helps the coalition minimize its own casualties, but occasionally leads to civilian deaths. Both Kabul and Islamabad have been increasingly vocal about their citizens dying in NATO's bombings.
You can share this story on social media: