The president of Abkhazia dies in Moscow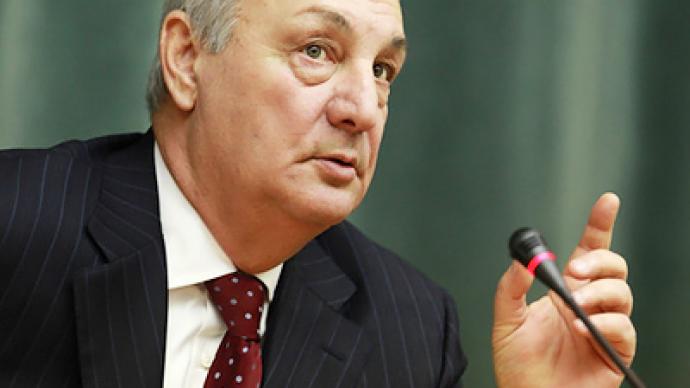 Sergey Bagapsh has passed away in a medical center in the Russian capital, aged 62. Abkhazia declares three days of mourning beginning May 31.
On May 21, Bagapsh underwent surgery on his right lung in Moscow. The doctors said it was successful. But by the following Thursday, his lungs stopped functioning, and he was put on an artificial respirator. On Saturday the doctors registered complications in his other organs, and were unable to improve his critical condition.It is reported that Sergey Bagapsh will be buried in Abkhazia. "The memorial service will take place in Moscow on Monday and Bagapsh's body is expected to be sent to Abkhazia the same day. Sergey Bagapsh will be laid to rest in either Sukhumi or his patrimonial village of Dzhgyarda, where both his parents are buried," stated one of the presidential administration representatives.Three days of mourning have been declared to mark his passing with all scheduled entertainment events and international trips being canceled.Russian president Dmitry Medvedev has expressed his condolences and pointed out Bagapsh's contribution to the strengthening of Abkhazia's independence. "Bagapsh was a strong supporter of friendship with Russia, he was constantly trying to strengthen the ties between our two countries," wrote Medvedev in his message. The Russian Prime Minister Vladimir Putin has also sent a message to Abkhazia's vice-president Aleksandr Ankvab, saying Sergey Bagapsh "will always be remembered as an outstanding politician and a statesman, a true patriot".Abkhazian Vice-President Aleksandr Ankvab will assume the president's duties for the next three months, stated Hugzar Ashuba, speaker of the Abkhazian Parliament. "In accordance with the Constitution of the Republic of Abkhazia, a new president should be elected within three months," said Ashuba.
Abkhazians look ahead as their leader passes
Sergey Bagapsh was elected president of Abkhazia in 2005, and was reelected in the 2009 presidential election.The future president was born on March 4, 1949 in Sukhum. For most of his life he lived in Abkhazia.Bagapsh's political career started in 1982 when he became secretary general of the communist party in the Ochamchira district, at that time a part of Georgia, itself a republic within the Soviet Union. After the collapse of the Soviet Union, Bagapsh became a businessman and the representative of the Abkhazian government in Moscow. He was Prime Minister of Abkhazia from 1997 to 1999 and was elected its President in 2005; he was granted a second term in the 2009 presidential election. He also led the country from 2005 to the defining moment of his presidency in 2008 when Abkhazia became embroiled in a war of independence with Georgia, a move with resulted in the small republic becoming a fully independent state.
You can share this story on social media: