Abkhazia calls for sovereignty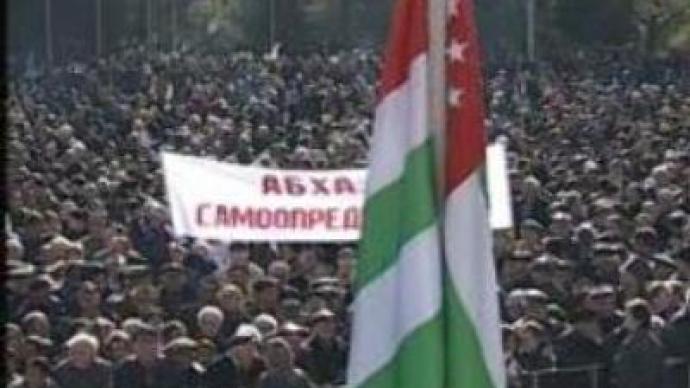 About 35,000 people have gathered in the capital of Georgia's breakaway republic of Abkhazia, Sukhumi, to show their support for independence from Georgia and to make an appeal for international recognition.
Meanwhile, Russia's State Duma is discussing the claims of sovereignty by the Georgian republics of Abkhazia and South Ossetia.The secretary of Abkhazia's Security Council, Stanislav Lakoba, said the debate in the Russian parliament is an important step in its struggle for independence.
"We expect support from the Russian parliament, although we understand there are some difficulties in supporting our independence. However, the most important thing for us is that our appeal is being debated at such a high level in Russia,"
stressed Mr Lakoba.At the same time, the speaker of the Georgian parliament, Nino Burjanadze, said the move is aimed against Georgian territorial integrity and warned Russia's Duma against making hasty decision.
"It is difficult to say what the decision will be made, as Russia's State Duma is quite unpredictable. Nevertheless, I hope that there will be no positive decision on breakaway republics sovereignty. Otherwise it will be a violation of the bilateral Russian-Georgian agreements as well as the violation of the principles that Russia declared at many international forums. In addition, it will be the message to all the international community clarifying what is behind Russian sanctions on Georgia and what Russia's real interests in Abkhazia and so-called South Ossetia are,"
pointed out the speaker of the Georgian parliament.
"Frankly speaking I don't expect the Russian Parliament to recognise Abkhazia's independence today. It's a difficult and complex process requiring certain preparations. More likely a decision will be adopted declaiming Georgian authorities' action in Abkhazia and South Ossetia. In particular, as far as I know the draft of the resolution includes considerations about building up of Georgian military forces in Abkhazia which cannot be tolerated,"
said Amiran Lagvilava from the Regnum news agency in Moscow, sharing with Russia Today his opinion on what Abkhazia expected from a discussion in Russia's State Duma about the republic's claim for independence.
You can share this story on social media: