Abbas meets with Ban and Rice on eve of Arab League Summit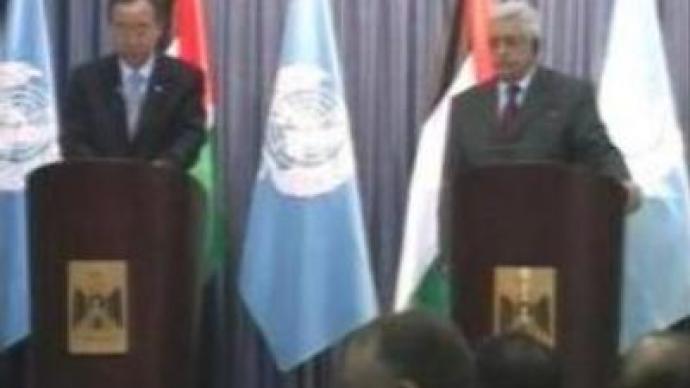 Days ahead of the Arab League Summit, Palestinian President Mahmoud Abbas has met with the UN Secretary General, Ban Ki-Moon, and the U.S. Secretary of State, Condoleezza Rice, at his Ramallah headquarters in the West Bank.
In his first visit to the Palestinian areas since taking over as head of the United Nations, Secretary General Ban Ki-Moon laid a wreath at former Palestinian leader Yasser Arafat's grave. He then met with President Mahmoud Abbas and the two discussed the humanitarian situation of Palestinians and ways to revive the Israeli-Palestinian peace process. Abbas said he was committed to securing the release of kidnapped Israeli soldier Gilad Shalit who was taken hostage nearly a year ago and is believed to be being held in the Gaza Strip.
"We are convinced that the release of Gilad Shalit is very important and we are doing everything in our power to get it done, though we are being attacked over this issue all the time. At the same time and in the same warmth we are working to release 10,000 Palestinian prisoners. This is our goal and that is what we want to approach,"
Mahmoud Abbas emphasized.Abbas also said the Palestinians were committed to a truce and a comprehensive peace deal with Israel. He asked Ban Ki-Moon to speed up the UN's plan to register Palestinian damage claims following the construction of Israel's separation barrier. While welcoming the new Palestinian unity government, Ban Ki-Moon said he did not intend to meet with its Hamas members.
"At this time I do not have plans to meet with Prime Minister Haniyeh or other Hamas cabinet ministers. I think the political atmosphere is not fully right,"
Ban Ki-Moon explained.The U.S. Secretary of State, Condoleezza Rice, who met also with the Palestinian President and Israeli Prime Minister, adopted the same position. Rice is in the area ahead of a high-profile Arab summit in Saudi Arabia later this week. Officials there are expected to discuss reviving a 2002 Saudi proposal for a comprehensive peace between Israel and the Arab world. Hamas leaders are highly critical of Condoleezza Rice and Ban Ki-Moon's position not to meet them. But Palestinians are hoping the visit of Condoleezza Rice and Ban Ki-Moon might convince the international community to recognize the new unity government. Meanwhile, Israel insists the new coalition does not meet international pre-conditions of acceptance and has vowed to continue with its boycott, urging the international community to follow suit. While the meetings are happening, the situation on the ground is deteriorating. More and more patients are coming in hospitals, but supplies are getting fewer and fewer. For nearly a week doctors at government hospitals have been on strike. They are demanding they be paid wages they have not received for nearly a year. The problem is compounded by the fact that international organizations have stopped supplying medication because Hamas ministers are in the government.
You can share this story on social media: