Abbas and Mubarak discuss proposals for new Palestinian government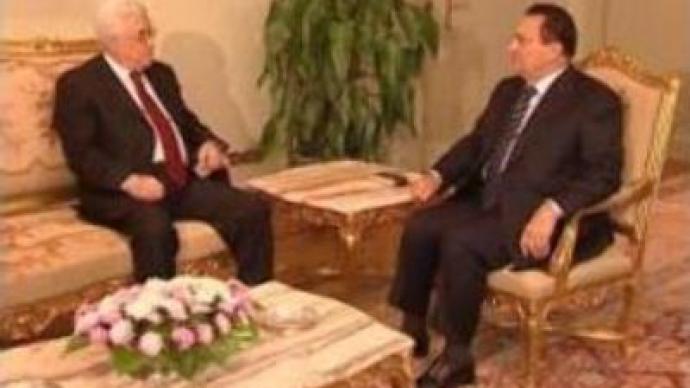 Palestinian President Mahmoud Abbas has met the Egyptian leader Hosni Mubarak in Egypt's capital. The two leaders discussed the recent accord signed between Fatah and Hamas in Saudi Arabia.
Both are preparing for high-level meetings later this month with the Israeli Prime Minister and the U.S. Secretary of State in the latest efforts to get the peace process moving.This round of talks focused on the recent accord signed between Fatah and Hamas in Saudi Arabia to form a national unity government. Abbas thanked Mubarak for Egypt's efforts in reaching the deal.Palestinians hope this will bring an end to weeks of internal fighting and Abbas stressed that with good intentions, events could turn in the right direction.
"If there are good intentions, and a desire to move forward then there will be guarantees this agreement will succeed. However, if there are bad intentions the situation will be difficult. But I believe the intentions here are good,"
Palestinian president said.The agreement lays the foundations for a power sharing government including the two rival factions with independents taking the key finance, foreign affairs and interior ministries. Ismail Haniya of Hamas remains Prime Minister and has 5 weeks to form a new cabinet. Hamas also agreed to respect previous accords signed between the Palestinians and Israel, but made no promises to explicitly recognise the Jewish state, a demand made by the international community before it will lift its aid embargo which has crippled the Palestinians. Israel's excavation work near the Al Aqsa mosque in Jerusalem which sparked protests in Muslim countries was also addressed during talks between Abbas and Mubarak. The Egyptian Foreign Ministry has summoned the Israeli Ambassador to Cairo to express its deep concern and dismay over the situation.On the question of peace negotiations, Abbas said the next step was a meeting with Israeli Prime Minister Ehud Olmert and U.S. Secretary of State Condoleeza Rice on February 19.
"We agreed with Secretary Rice that we would go directly into negotiations on the final status issues, including borders of a Palestinian state, refugees, the Israeli settlements, and so on. The trilateral meeting will place the guidelines for a final peace agreement, and then Rice will meet with the Quartet to ensure its implementation,"
Mahmoud Abbas stressed. Given the violence of recent weeks, further wrangling over the details of the unity government cannot be ruled out. A fresh flare-up of violence between the factions could jeopardize the whole process.
You can share this story on social media: