NATO doesn't see Russian military threat – Stoltenberg
The bloc's chief has disagreed with recent claims that Moscow seeks to undermine the Balkans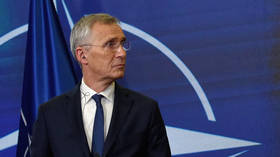 There is no "imminent" military threat from Russia to any NATO member or the Balkans region, the bloc's secretary-general, Jens Stoltenberg, told reporters on Tuesday.
Stoltenberg was visiting North Macedonia, a former Yugoslav republic that joined NATO in 2019. In a joint press conference with Prime Minister Dimitar Kovacevski, he was asked about Ukrainian President Vladimir Zelensky's recent claim that Russia had plans to destabilize the Balkans.
"We do not see any imminent military threat from Russia against any NATO ally or region," the Norwegian politician replied. "But of course, we remain vigilant. We monitor closely what Russia is doing, and we remain united."
He noted that NATO has troops in the region as part of the KFOR mission in Kosovo, a headquarters in Bosnia-Herzegovina, and an office in Serbia, and is "ready to quickly reinforce and to do what is necessary to defend and protect every ally against any threat."
But, again, we don't see any imminent military threat against any NATO ally.
Stoltenberg was in Skopje as part of a tour of the former Yugoslavia, having already visited Sarajevo, Belgrade, and Pristina. Of all the former Yugoslav republics, only Bosnia-Herzegovina and Serbia remain outside of the US-led bloc.
While Stoltenberg reiterated NATO's standard talking points about the Ukraine conflict, his insistence that there was no Russian threat went directly against what Zelensky asserted last week.
Speaking to journalists from Africa last Thursday, the Ukrainian leader claimed that Moscow was behind the current conflict in the Middle East and was plotting to undermine the Balkans and Moldova in order to distract the world's attention from Kiev.
"Pay attention to the Balkans. Believe me, we are receiving information: Russia has a long plan. The Middle East, there will be the Balkans, at least, if the countries of the world do nothing now, there will be such an explosion again," Zelensky said.
The Ukrainian president has repeatedly lamented that Israel's war on Hamas, which began in October, has shoved Ukraine out of the Western spotlight. The EU has been unable to approve additional military and financial aid to Kiev, while the White House has struggled to push another Ukraine funding bill through Congress.
You can share this story on social media: