Yemeni Houthi rebels seize Israeli-linked ship
West Jerusalem claims that the raid on the Galaxy Leader cargo ship in the Red Sea was orchestrated by Iran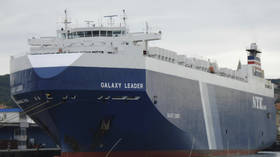 The Houthi government in Yemen says it has seized an Israeli-affiliated cargo ship in the Red Sea, as tensions between the two boil over due to the conflict in Gaza. Israel has condemned the move but insists that the ship had no connection to the country.
Japanese-based operator NYK Line said on Monday that the Bahamian-flagged pure car and truck carrier, the Galaxy Leader, was captured near Hodeida, Yemen while sailing for India, adding that there were 25 crew members aboard.
While operated by a Japanese company, the ship is owned by British-based Ray Car Carriers, associated with Abraham Ungar, one of the richest men in Israel, according to Forbes.
Brigadier General Yahya Sarie, the spokesman for the Yemeni Armed Forces, confirmed that the navy had directed the vessel to the country's coast, claiming that the operation was carried out based "on religious, humanitarian and moral responsibility towards the oppressed Palestinian people and the unjust siege they are subjected to."
He noted that Yemen would "deal with the ship's crew in accordance with the teachings and values of our Islamic religion." The Yemeni military would also "continue to carry out military operations against the Israeli enemy until the aggression" against Gaza stops, he added.
The Israel Defense Forces (IDF) described the incident as "hijacking" and a "grave incident of global consequence," while stressing that the vessel was "staffed by civilians of various nationalities, not including Israelis. It is not an Israeli ship."
Prime Minister Benjamin Netanyahu's office claimed that the hijacking was orchestrated by Tehran, which has close ties with the Houthi rebels, condemning what it called "another act of Iranian terrorism."
Iranian Foreign Ministry spokesman Nasser Kanaani denied the allegation, claiming that various "resistance groups in the region act independently and spontaneously based on their interests." He added that West Jerusalem's claims about the vessel were meant to divert attention from its "irreparable defeat" in the conflict with Hamas.
Tensions between the Houthis and Israel have soared in the aftermath of the October 7 Hamas attack on the Jewish state. Last month, the Yemeni military said it had launched drones and missiles at Israel in support of the Palestinian cause. Before that, the Pentagon said that a US destroyer deployed in the Red Sea had shot down several missiles fired from Yemen and potentially heading toward targets in Israel.
You can share this story on social media: