Israeli minister demands 'death penalty for terrorists'
The far-right Otzma Yehudit party wants to legalize capital execution for the first time since 1962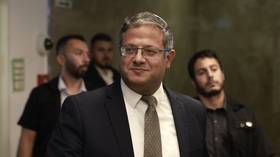 Israel's far-right Otzma Yehudit (Jewish Power) party has submitted a bill mandating "the death penalty for terrorists," which will be debated this week.
"I expect all members of the Knesset to support this important law," Otzma Yehudit's leader, Israeli National Security Minister Itamar Ben Gvir, wrote on X (formerly Twitter) on Saturday.
Israel abolished the death penalty for murder in 1952. The last execution took place in 1962, when Adolf Eichmann, one of the architects of the Holocaust, was hanged for war crimes and crimes against humanity.
A bill introducing capital punishment was brought before the Knesset in early March. The bill, which would allow judges to hand down death penalty verdicts to people convicted of committing hate-motivated murders of Israeli citizens, was approved by MPs in its preliminary reading.
Ben Gvir is known for making harsh and often inflammatory comments about the Palestinians. In August, the US and EU criticized the politician for suggesting that the right of Israelis to travel freely across the West Bank was "much more important" than the same right of Palestinian Arabs.
On October 7, the militant group Hamas conducted a surprise attack on Israeli communities located near the border with Gaza, killing some 1,200 people, mostly civilians, and taking over 200 hostages. Israel responded with airstrikes on Gaza and a ground invasion of the Palestinian enclave, with the stated goal of eradicating Hamas and rescuing the abductees.
More than 12,000 Palestinians have since been killed in Gaza, according to local officials. Many countries, as well as the UN and human rights groups, have called for an immediate ceasefire. Israel said it would provide daily "humanitarian pauses" instead, insisting that a ceasefire would only help Hamas.

You can share this story on social media: