Australian war crimes whistleblower pleads guilty
Material leaked to journalists by David McBride led to an inquiry which found that soldiers had unlawfully killed Afghan civilians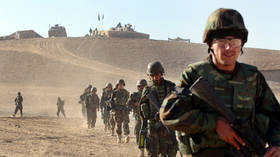 David McBride, a former military lawyer who helped expose allegations of Australian war crimes in Afghanistan, pleaded guilty on Friday in a Canberra court to three charges related to the leaking of classified information to the media.
McBride, who originally faced five charges, pleaded guilty in the Australian Capital Territory (ACT) Supreme Court to offenses including stealing commonwealth information and subsequently passing it on to reporters for the Australian Broadcasting Corporation (ABC).
The guilty plea comes after McBride's legal team abandoned a defense arguing that his disclosure to the media was protected by whistleblower safeguards, and follows a government intervention that certain documents, if discussed during the trial, could undermine "the security and defense of Australia."
"I'll say one thing," McBride said on Friday outside the court in Canberra, according to The Guardian. "I stand tall, and I believe I did my duty… and I see this as the beginning of a better Australia."
During the trial, the court heard that McBride felt he had a moral duty to speak up after becoming concerned by what he described as the "over-investigation" of alleged misconduct by special forces soldiers, which he believed to be "excessive" and compromised soldiers' safety, ABC said.
The material leaked by McBride formed the basis of ABC's 2017 'The Afghan Files' expose, which detailed allegations of war crimes against Australian forces in Afghanistan.
The evidence led to an inquiry which found that Australian soldiers had unlawfully killed 39 Afghans between 2005 and 2016; additionally, Australian soldiers had placed evidence of the use of weapons on civilians killed in combat.
Months after McBride was arrested in 2019, ABC's offices were raided by federal police as part of an investigation into one of the journalists, Dan Oakes, who published the reports from the leaked information. Prosecutors declined to proceed with charges against Oakes, saying that it was not in the public interest to do so.
The prosecution of McBride, however, has led to claims that Australia's whistleblower protections are not sufficiently robust. "This is a dark day for democracy in Australia," Rex Patrick, a former Senator and founder of the Whistleblower Justice Fund, told the BBC.
"There is no public interest in prosecuting whistleblowers, and certainly no public interest in sending them to jail," added human rights lawyer Kieran Pender, also to the BBC.
Speaking outside the court, McBride's legal team hinted at a possible appeal; his lawyer Mark Davis said that the government intervention to withhold material crucial to their defense had dealt them a "fatal blow." McBride is expected to be sentenced early next year.
You can share this story on social media: