Germany promises 'massive' increase in Ukraine aid
Berlin will provide "winter protection" for Kiev in the form of air-defense systems and electricity generators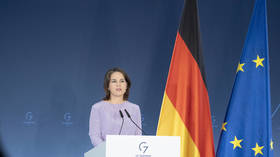 Germany is planning to "expand and increase" its support for Ukraine in the coming years, Foreign Minister Annalena Baerbock said at a meeting of the EU foreign ministers in Brussels on Monday. She provided few details of the plans, except for promising Kiev "winter protection" in the months ahead.
Baerbock urged her fellow ministers not to focus solely on the recent hostilities in the Middle East, emphasizing that there remained a need to "face geopolitical challenges" in Europe as well.
"Our support will be massively expanded, especially for the next year," she told the meeting, warning Moscow not to expect a reduction in EU aid to Kiev as a result of the "dramatic situation worldwide."
"We will not only continue our support for Ukraine. We will continue to expand and increase it," she asserted.
Baerbock provided few details about the planned assistance to Ukraine, revealing only that Berlin is planning to send Kiev another US-made Patriot air-defense system and electricity generators as part of the so-called "winter protection umbrella" scheme.
Germany's Bild tabloid reported over the weekend that the governing coalition in Germany is seeking to increase military aid to Ukraine from €4 billion ($4.27 billion) to €8 billion ($8.54 billion) in 2024 alone. The parliament's budget committee is expected to review and potentially approve the plan at some point this week, according to the paper.
The data on Ukrainian military aid provided by the German government shows that the total amount of money Berlin will spend on arming and training the Ukrainian troops in 2023 accounted for some €5.4 billion ($5.76 billion), up from just €2 billion ($2.13 billion) in 2022. "Commitment authorizations for the following years [amount] to around €10.5 billion ($11.21 billion)," a government report says, adding that those funds "should primarily be used for military support for Ukraine."
According to Germany's Kiel Institute for the World Economy, Berlin has emerged as Ukraine's second-largest military aid donor. Having spent some $18.2 billion providing military assistance to Kiev, Germany still trails far behind the US, which had spent around $45 billion, the institute's data showed.
Washington has recently signaled that it may run out of money for Ukraine if Congress does not approve any new relevant spending bills. Last week, the Pentagon said it potentially had only $1 billion remaining for Ukraine military aid, and would have to ration arms packages from now on.
Russia has repeatedly stated that Western arms supplies to Ukraine were hardly affecting the situation on the frontlines. In early November, Russian Defense Minister Sergey Shoigu said that "despite the supply of new kinds of NATO weapons, the Kiev regime is losing." The Russian military has also regularly published photos and videos of destroyed Ukrainian heavy armor, including German-made Leopard tanks.
You can share this story on social media: