Ex-UK PM makes sensational return as foreign secretary
David Cameron led the country between 2010 and 2016, stepping down after the Brexit referendum he had proposed and eventually lost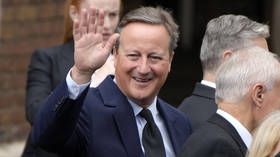 Former UK Prime Minister David Cameron has made a surprise comeback to the British government after being appointed to head the country's Foreign Office by incumbent PM Rishi Sunak. Cameron, who led the country for six years, resigned in 2016 after the UK voted to leave the European Union.
The move was announced by Downing Street on Monday as part of a major cabinet reshuffle. Cameron was picked to succeed James Cleverly, who in turn was chosen to replace the recently sacked Home Secretary Suella Braverman. Braverman was given the boot after a row over the policing of pro-Palestinian protests in London, which she branded as "hate marches."
Commenting on his appointment, Cameron wrote on X (formerly Twitter) that "we are facing a daunting set of international challenges, including the war in Ukraine and the crisis in the Middle East," saying the UK must "stand by" its allies.
He added that while he "may have disagreed with some individual decisions" of the British government, he described Rishi Sunak as "a strong and capable Prime Minister, who is showing exemplary leadership at a difficult time" while vowing to do his best in the new role.
The 57-year-old veteran politician became the leader of the Conservative Party in 2005 and prime minister in 2010. He built his election campaign on a promise to hold a so-called 'Brexit' referendum. While in office he was instrumental in fostering support for the Islamist militant-backed rebellion in Libya which resulted in the brutal murder of Muammar Gaddafi and the effective destruction of the country.
In 2016, he resigned as both prime minister and Conservative Party leader after Leave supporters won the Brexit vote by a 3% margin. While Cameron has been out of frontline politics for many years, in 2018, the Sun reported that he could return to the public spotlight, preferably as foreign secretary.
You can share this story on social media: