Kiev hoping for Trump-Zelensky call – media
The former US president has already rejected an invitation from the Ukrainian leader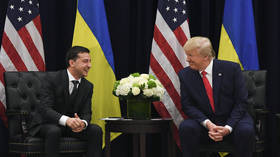 Ukrainian President Vladimir Zelensky is eager to speak directly with former US President Donald Trump, in case the Republican frontrunner retakes the White House in 2024, the Strana news outlet reported on Sunday, citing an inside source in Kiev.
An individual close to Zelensky's office reasoned that Trump, as the de facto 2024 presidential nominee for the Republican Party, effectively controls the flow of foreign aid to Kiev, since Republicans hold the majority in the House of Representatives, which has been responsible for blocking the White House's efforts to continue funding the Ukrainian conflict.
The Ukrainian leader's cabinet "understands this, and therefore is trying to organize a direct conversation between Trump and Zelensky," the source told Strana.
Trump publicly turned down a previous invitation from Zelensky to visit Kiev earlier this month, explaining that he it would be "inappropriate" to go to Ukraine while they are currently "dealing with" US President Joe Biden. The former president announced he "would not want to create a conflict of interest."
Zelensky issued the invitation publicly as a challenge to Trump regarding the latter's boast that he could end the conflict between Russia and Ukraine in just 24 hours if reelected.
If Trump would just come to Kiev, Zelensky claimed he would need just 24 minutes to convince the American that "he can't manage this war. He can't bring peace because of [Russian President Vladimir] Putin."
While Zelensky has praised Biden's visits, the Democrat's reelection in 2024 is anything but certain, with polls showing Trump pulling further ahead of his rival, despite the Republican's legal troubles. Dozens of felony charges against Trump could potentially put him behind bars for six lifetimes – a fact he has not hesitated to use for fundraising purposes.
After sending over $75 billion to Ukraine over the last two years, the US has nearly exhausted the funds it set aside for the conflict, and a growing number of Congressional representatives are eager to draw the line at any further aid to Kiev.
Biden's proposed $100 billion national security package, which included $61.4 billion earmarked for Ukraine, flopped in Congress last month when House Speaker Mike Johnson demanded separate bills to fund the conflicts in Ukraine and Israel.
You can share this story on social media: