Germany to deploy tank battalions to Russian border
The Defense Ministry announced that two units will join NATO's Forward Presence Battlegroup in Lithuania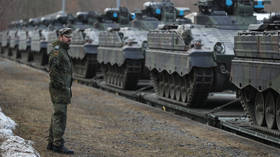 Germany's Defense Ministry has announced that it will deploy two tank battalions to Lithuania, which will form a new brigade together with NATO's joint Forward Presence Battlegroup, which is already stationed in the Baltic nation. The new unit, which is expected to come into being in 2025, will be made up of 4,800 military personnel in total.
In a statement on Monday, the ministry said that "Tank Battalion 203 and Mechanized Infantry Battalion 122 will be redeployed to Lithuania." The resultant new tank unit will be named Tank Brigade 42. The additional troops will join the rotating German-led NATO contingent once all the necessary infrastructure has been put in place.
There are currently about 1,700 troops from six NATO member states stationed in the Baltic nation; about half of them are German service members.
German Defense Minister Boris Pistorius described the planned deployment as the "lighthouse project of the turn of an era," stressing that in place of the two brigades, the Bundeswehr will establish several new units from scratch, which will be stationed on German soil.
Speaking to German media last month, Pistorius explained that with the move, Berlin was seeking to demonstrate "solidarity and responsibility in the East Wing." He also characterized Russia as a threat, adding that this would likely remain the case "at least for the next few years."
The official first revealed plans for the deployment back in June after meeting with his Lithuanian counterpart Arvydas Anusauskas.
Russia, for its part, has repeatedly warned NATO against moving its forces closer to its borders, saying that it will have to respond accordingly to the military buildup in Eastern Europe, which has intensified in the wake of the Western-backed coup in Kiev in 2014 and the ensuing conflict in Donbass.
In September, Russia's Deputy Foreign Minister Aleksandr Grushko accused the US-led military bloc of rehearsing for a military conflict with Moscow, after NATO announced plans to stage its largest joint drills since the Cold War. The diplomat said at the time that NATO's Steadfast Defender 2024 war games "are clearly aggressive" in their nature, and represented an "attempt at military-political pressure."
Last month, Foreign Minister Sergey Lavrov said that Russia would have to respond to NATO's nuclear sharing scheme, under which part of the US nuclear arsenal is stationed outside the country, with training provided to allies on how to deploy the weapons.
The minister warned that the arrangement has led to "increased strategic risks," while citing the "general increase of threats posed by NATO."
You can share this story on social media: